Academics from across Alliance Manchester Business School took part in the recent Manchester Festival of Climate Action, organised by The University of Manchester, which considered the challenges at the forefront of the climate crisis.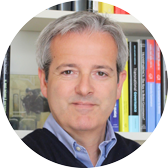 To coincide with the ongoing COP-26 conference, we are showcasing the video sessions involving all AMBS academics over the coming week. In this latest film Paolo Quattrone, Professor of Accounting, Governance and Society, hosted a thought-provoking session discussing the shift to value-added accounting and how environmental impacts can become part of the bottom line.
In his session Professor Quattrone began by asking what he conceded was a deliberately provocative question. "I do not know whether accounting can save the world, but it can create the conditions for saving the world. The reason for that is that most of the social and environmental problems that we have are related to the production of services and goods, and the externalities that this production generates.
"Accounting is actually a wonderful framework to understand how services and goods are provided, what inputs we have, how we account for them, what values we generate and how we distribute value. We tend to forget that."
During the session he specifically reflected on the current structure of the income statement, asking whether it was as much a "political" statement as an income statement, and discussed how it was drawn up in the interests of one very specific stakeholder, namely the shareholder.
Instead he suggested a new form of income statement which included a small but very important modification. "How about a line which accounts for provisions to a fund for nature? Why not create a value added statement for nature which reflects all the externalities that are created when you produce something?"
Watch the video from Paolo's session below: