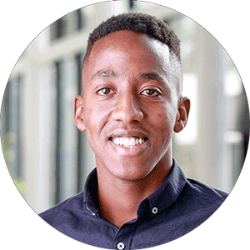 We spoke to Titus Kuhora, MSc Operations, Project and Supply Chain Management Class of 2020, about his experience on the course. He spoke about how the course and our dedicated Alliance MBS Postgraduate Careers Service helped him in successfully securing a graduate position with Hermes.
How did you find the help provided by the Postgraduate Careers Service?
"I began using the Postgraduate Careers Service around October and their help was invaluable. From the informative one-to-one CV and cover letter sessions to the mock interviews, all staff members were really dedicated and readily available to help. Especially when the pandemic started, I had doubts about getting a job in the UK, but the support and encouragement I got from the team was invaluable. They also held many events each week, ranging from LinkedIn profiles to information sessions giving international postgraduate students tips on how to secure a job."
How do you think your master's course has helped you secure your graduate position?
"My master's degree has played a significant part in securing employment. The level of critical thinking which lecturers expect students to develop is fantastic. Going into the interview I had great self-belief in my ability to evaluate situations and give informed decisions critically, and I have to attribute this to my course. Learning from lecturers who have worked in the most prominent companies around the world motivated me to learn more and work to reach their level, thus taking this knowledge into the interview helped me excel.
"Having a lot of group work throughout the course also helped me talk expansively on my teamwork skills and how it will be valuable for the company. The excellent thing is that for some projects you also get the opportunity to work with some students from other master's courses at Alliance MBS, so you can learn how to collate different sources of knowledge into one piece of work. Furthermore, I got the opportunity to work with students from all around the world which developed my interpersonal skills by interacting with people from various cultural backgrounds. Showcasing such teamwork and interpersonal skills gave me exciting points to discuss in the interview."
How has completing a master's prepared you for the working world?
"Firstly, with my course emphasising independent, critical thought on real-world situations, it has prepared me to look at problems and create viable solutions that do not solely rely on the theoretical perception of what is right or wrong.
"Secondly, having various forms of assessment, such as presentations and reports, has developed my confidence to speak in front of people and articulately present my points. During such assessments, we were advised on how to present, ranging from how to dress formally to general body language and audibility when presenting.
"Lastly, having strict coursework deadlines for challenging work helped me improve my time management and also not shy away from asking important questions in the process. One of my favourite coursework was 'project charity' where we had 8 hours to run a project of our choice to raise money for charity. Such coursework helped me learn how to work under pressure but efficiently aligned with the time set."
What advice would you give to applicants on how to prepare for applying for graduate positions?
"I would encourage applicants to come into their master's course with an open mind, as this will help you to be curious about the opportunities and knowledge that you will gain studying at Alliance Manchester Business School. You will be challenged to expand your thinking and develop independent thought while being exposed to new opportunities.
"Honestly, coming to Alliance MBS is the best decision you can make. The people you will meet, the knowledge and confidence you will gain throughout your course is invaluable."
Hear Titus in conversation with Dr. Fahian Huq, Senior Lecturer Operations and Supply Chain Management and Programme Director for MSc Operations, Project and Supply Chain Management:
Chat to an MSc Operations, Project and Supply Chain Management student >>