On Friday 21 July 2023 we welcomed back our MBA students for their Graduation ceremonies.
As they celebrated their success with colleagues, family and friends, they shared their MBA experience and how studying at Alliance Manchester Business School has set them up for success.

Read their stories below.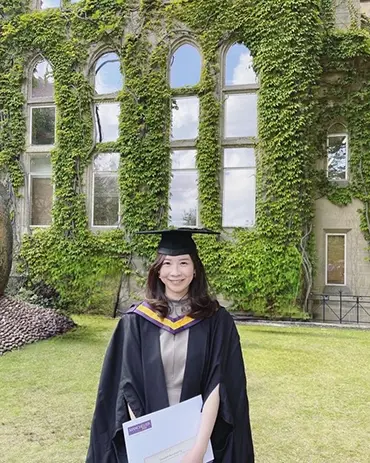 Pavadee Burapapong, Thailand
"Looking back, I can see how I have grown immensely over the past 18 months. What I learned from MBA is not only academic knowledge but also resilience. I am now living in London and working as FinTech Ecosystem Associate at Innovate Finance."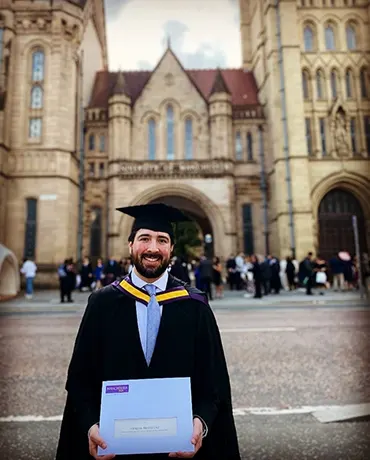 Fernando Medina, Mexico
"I always wanted to study an MBA from a well-recognised, renowned business school and Manchester couldn't have been a better option. After 12 months of studying in Manchester, a 3-month internship with National Grid and an amazing International Business Project working for Cordiant Capital I have finally graduated with my MBA degree.
Being part of a diverse class, having the opportunity to get to know people from around the globe aided my growth both professionally and personally. I am really proud to have completed the programme and I have left the MBA with great business and consulting foundations and an international perspective of business."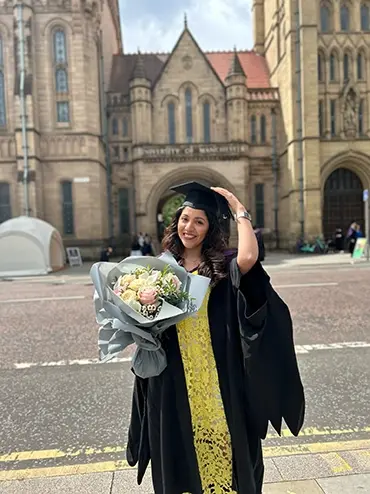 Noemi Cruz, Peru
"Doing an MBA has always been my dream, but the path to achieving it wasn't always easy. I feel incredibly grateful for this beautiful and transformative journey, I've grown both as a professional and as an individual. I am now a Senior Consultant at Gobeyond Partners in the UK. Before the MBA I was working at BCP bank in Peru as CX team leader."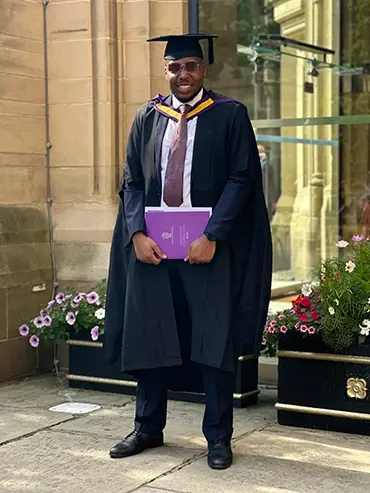 Ovie Okion-Ojigbo, Nigeria
"Throughout my journey, I have acquired valuable skills such as expanding my strategic mindset, improving my analytics, marketing, and operations abilities. I have also gained an understanding of working in a multicultural environment. I am grateful to my class of 2023 cohort for their companionship and encouragement throughout this journey, which has been truly remarkable. I am now living in London working as Strategic Planning Manager for American Express."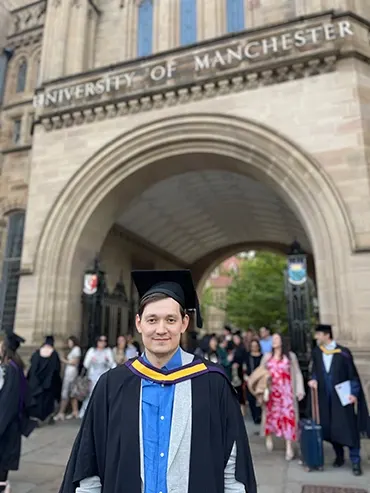 Aziz Yuldashev, Uzbekistan
"Graduating from the Full-time MBA marks the end of a long and transforming journey to become a much more mature and experienced person with a wider skillset to apply in management consulting at Curzon Consulting by solving complicated issues in business."
Watch video from Noemi Cruz about her journey on the programme >>
Find out more about our MBA programmes >>