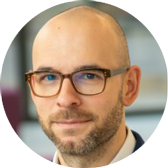 Markos Zachariadis, Professor of Financial Technology & Information Systems at Alliance MBS has co-authored a thought-provoking article for the World Economic Forum in which he says the pandemic has accelerated most banks' digitalisation initiatives. "If the 2008 recession caused a boost in financial technology innovation, appetite for experimentation, and a wave of fin-tech start-ups, then this time round it is more about delivering real change."
However in the article, entitled 'Phygital': a banking strategy for the new isolation economy, he says the physical branch network remains particularly challenging to shift online. "Not only does a bank branch hold cultural, historical and prestige value for communities - it also is the final bastion for key segments of the population that cling to cash. Typically these are small businesses, the mainstay of local economies."
Link with communities
In order to retain this prestige and their important link with communities, he says the model of branch banking will have to be turned completely on its head in the post-COVID-19 era.
"We believe that banks must break out of the traditional branch model and focus on how to deliver specific, high value, physical interactions and experiences that can complement a digital banking core. In true complementary fashion, digital technologies should also be used to augment physical experiences and make services faster, more secure, and more convenient. This is the essence of a true phygital strategy."
In the new normal, consumers will carefully pick and choose how to spend their time interacting. Bank branches, already a low-priority destination for most, will likely struggle to grab a share of this time. "This means a smaller network of branches providing a wider variety of services and experiences, potentially even beyond finance. This will include banking kiosks that are co-located within other businesses or physical destinations. These embedded experiences should be orchestrated in a way in which technology also matters and makes a difference."
New models
He adds that many banks have begun experimenting with new style branches, modelling them on coffee shops or technology retailers for example. Of particular note is Barclays' 25 Eagle Labs, which converted a series of closed branches in the UK into entrepreneurial shared-work, mentoring, networking and maker spaces. "More of this experimentation should be encouraged. Bank branches need to offer real value to customers by showcasing the best of what a bank has to offer in terms of education, trust, advice and networking."
But he says they also must be places where people will choose to spend their time. "These could be department stores, car showrooms, real estate agents, museums, or even places of local interest such as monuments or tourist destinations."
Such 'platform thinking' or 'cluster layout' is not completely new and can be traced back to the era of shopping centres and malls between 1950s and 1980s. "This time, however, technology can reinforce interconnections between products and services and make a difference for consumers by giving them more choice and transparency, and by helping them to make better-informed decisions."
Recession
As many countries face an unprecedented recessionary environment, he adds that consumer spending is going to be tight. "Many businesses would welcome their own miniature bank advisor in their store, helping customers understand and responsibly access their finance options."
If integrated correctly with the consumer's online interactions – both with the bank and the business – there could be many opportunities in analysing and sharing data on buyer behaviour and finance capability.
"This move to phygital will, of course, impact on the workforce. The skills and roles required for retail banking professionals will have to be re-assessed. Branch colleagues will need to be better trained, have more soft skills, and a wide knowledge base supported through effective technology.
"But it will be worth it. It will be much more important to get ever-more limited physical interactions right. Banks must think twice before going fully virtual. A phygital strategy and combination of the two could give them the edge in this new normal."