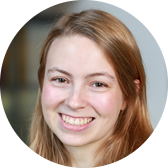 Thinking about moving from the USA to study in England? We spoke to Texan and current MSc Business Psychology student, Megan Strain, about her experiences of living and studying in Manchester.
The academic style is actually very different than I experienced in the US. For example, when applying, in the UK they mostly consider academic merit rather than focus on extracurricular activity or volunteering. So high grades meant a lot to getting in, but this means the process is a lot easier: no interview, my application was quickly processed, and I believe more scholarships are awarded by merit and need no extra application.
There is more emphasis on independent learning in the UK, which means a lot of reading around the subjects you're learning rather than a lot of class time. So your class schedule is less demanding, but you are relying on your own discipline to stay on top of your learning.
In grades, more emphasis is put on writing your exams in the UK, rather than having several papers, midterms, or projects throughout the semester. For exams, you essentially delve into a few subjects and prepare to write in-depth essays when your exams come around. The exams are generally worth most of the grade percentage (around 70-80%), unlike in the US, where final exams are considerably less important. In the UK, the assessments are graded more harshly, meaning that you can get a grade 90-100, but it's nearly impossible. Instead, anything above a 70 is considered an 'A' or 'first'. You'll either love it or hate it.
How did you fund your studies in the UK? Did you apply for FAFSA?
The great thing about studying in the UK is that it's less expensive, because you spend fewer years on a degree and it's less expensive tuition with no extra fees. I personally had a scholarship with the Business School (as an American, they have some scholarships at Alliance MBS), but also used my savings a bit. I did use the FAFSA, which is wonderful, because it's financial aid from the US but for studying in the UK. I was surprised that Manchester used FAFSA, but it's certainly a great idea. I also was able to get a part-time job at a hotel (with my Tier 4 visa) so I can earn a little bit as I study. Even as an international student, having a job at uni is definitely doable.
Can you tell us one thing you really miss about the USA, and one thing you've discovered you really enjoy about the UK?
Personally, I miss a lot of the food from back home. Most of the American restaurants (even fast food) are quite different from in the US, and as a proud Texan, I stay away from any of the 'Mexican' food because it's usually 'hipsterized'. Instead, there is a wealth of other kinds of foods I had never experienced before. Lots of curry, Pakistani, or Afghani food spots are nearby and definitely worth trying. Getting a meal deal from any grocery shop is a great way to prepare for lunch. I really like that the UK has other cafe chains besides Starbucks, such as Café Nero and Costa, and if you eat in, they give you proper mugs and plates rather than paper cups/bags!
At the university, there's no fraternity/sorority, but so many societies on every subject. There are also no organised sports teams for the University, but lots of sports societies (like inter-mural teams).
In Manchester, travelling is a lot easier than in the US. Buses go all over town, but Manchester is also small enough to walk around to get to most things in the city centre. However, be careful as an American pedestrian. Not only do they drive on the left here, but they don't have stop signs and don't stop when turning onto bigger streets. Take trains to go to other cities! It's a lot more practical than in the US and gets you places quickly.
Have you come across any odd Manchester/UK phrases? Which is your favourite?
Ugh, so many different phrases. "You alright?" basically means "Hey!" "Taking the mick" means "just making fun". I think the funniest thing is that "having tea" in northern England means "having supper". But there's so many, you'll just have to learn on the fly. The great thing is that northerners are super nice, so even if you don't understand what they're saying, they'll be a bit patient and try to help translate. And then they'll take the mick out of you.
Have you visited any other places in the UK since you arrived? Did one stand out in particular?
I have been all over. Trains are so much better than in the US and the International Society has lots of trips around the country, so it's quite easy. London of course is fantastic (especially for me as a big city gal and history buff). Edinburgh probably stands out the most, a beautiful city with lots of culture and cafes and even a mountain in the middle of the city. Liverpool is great too, especially for the Beatles fan in you. The gorgeous, quaint Peak District National Park (just south-east of Manchester) is also worth a trip!
Learn more about studying for a Masters degree at Alliance MBS >>