A Manchester scientist is working with the world's best doctors to develop a ground breaking early detection test for lung cancer.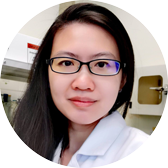 Dr Na Yu (Cherry) Chia launched her medtech start up ErleaDx, after her studies at the University of Manchester.
Her pioneering work on a blood-based test to pick up lung cancer in its early stages is now attracting attention from the global scientific community.
She said: "This test is a game changer for the millions of people around the world who hear the devastating words 'you may have lung cancer' every year. The current test for lung cancer is expensive, not 100% accurate and involves invasive procedures.
"Our vision at ErleaDx is to make picking up lung cancer, in its early stages, as easy as a finger prick test at home."
Dr Chia, founder and CEO of ErleaDx, is currently working on product development and clinical recruitment for the Mirlung Dx lung cancer detector and hopes to have a prototype available to UK lung cancer patients by 2023.
More than 75% of UK lung cancer patients are still being diagnosed at an advanced stage of the disease.
The pandemic has made the situation worse – with a significant increase in the number of patients having their lung cancer picked up at a late stage.
UK health experts predict that there will be an extra estimated 1,300-plus lung cancer deaths five years after diagnosis as a result of COVID-19.
ErleaDx's goal is to develop a handheld device for lung cancer detection which works in a similar way to glucose testing meters for diabetics.
The company has developed a proprietary technology to detect microRNA biomarkers at the early onset of lung cancer.
Dr Chia was one of the winners of the 2021 Venture Further Business Start-up Competition in the healthcare category for this early lung cancer detection project. Venture Further is the flagship annual start-up competition for all current students, researchers and recent graduates across the University of Manchester. She also received support from the Masood Entrepreneurship Centre at Alliance Manchester Business School.
This project also landed the UK Wellcome Trust Grant to support the pilot clinical studies in Manchester and a prestigious A*STAR GAP $100,000 grant from the Singapore government to turn its research into a market-ready product.