The annual AMBS Doctoral Conference is a highlight of the year for our postgraduate researchers. We didn't want them to miss out this year, so we held the event online for the first time.
The virtual conference was a great success with over 500 content views throughout the day. It was a great opportunity for our community of to come together to share successes, learn and network across divisions. The event was also attended by a number of AMBS staff and PhD researchers from the universities of Liverpool and Lancaster (as part of the North West Social Sciences Doctoral Training Partnership collaboration).
Condensing our usual two-day event into just one day was quite a feat. The team opted to replace the traditional keynote and panel sessions with a series of bitesize talks delivered by colleagues from our four academic divisions (Dr. Matteo Ronzani, Dr. Barbara Ribeiro, Honorary Professor Dr. N.R. Srinivasa Raghavan and Dr. Axèle Giroud). These sessions, combined with a plenary talk by Dr. Mat Johnson, brought a fresh energy to the event.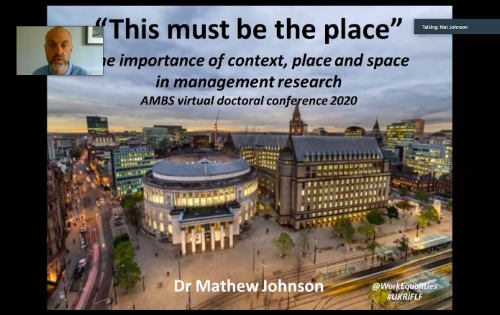 46 postgraduate researchers also presented their work, and the award for Best School Abstract was given to Samuel Bateman (IMP Division) for his work entitled "The role of workplace fears in organisational group decision making".
Divisional Best Abstracts were awarded to:
A&F: Michael Lloyd – "PFI is Dead, Long Live PFI? : Has the perception of value evolved beyond a constructed financial analysis in a PFI arrangement?"
IMP: Sandra Hamilton – "Public Procurement – Price-Taker or Market-Shaper?"
MSM: Alaa Almirabi – "Artificial Intelligence and Big data: Voice Assistants"
PMO: Eleni Maria Pagoni – "Exploring the effects of discrimination, bullying and harassment on employee engagement in Europe: cross-national differences in employee voice"
The results of the Best Doctoral Paper Competition were also announced on the day and we look forward to inviting the winners to present their work to us in the coming weeks:
1st place: Tulin Dzhengiz (IMP) for her paper "The Configuration and Emergence of Alliance Portfolios for Sustainable Development Goals: A Longitudinal Case of Dong/Ørsted"
2nd place: Lavinia Rognone (A&F) for her paper "News sentiment in the cryptocurrency market: An empirical comparison T with Forex"
3rd place: Angelique Hartwig (PMO) for her paper "Workplace team resilience: A systematic review and conceptual development"
The 2019-20 Doctoral Conference presented both a challenge and an opportunity this year – thank you to all who made it possible.
Find out more about the Manchester PhD >>