Blockchainers is a student-led non-profit organisation with a vision to build a community-driven by creating a positive impact through blockchain technology. It was once again supported by the Masood Enterprise Centre to hold its annual ideas competition.
The Blockchainers Awards Competition 2020 aimed to inspire entrepreneurship and fund the blockchain-based ideas of students, staff and recent graduates building on the spirit of enterprise and innovation within one of the hottest areas of tech right now.
The Blockchainers Awards took place virtually this year, so were not able to have a final celebration to bring together all our students who share a common passion for blockchain. However, the awards still reflected the goal of both organisations to encourage and financially sustain entrepreneurial initiatives. In the lead-up, Blockchainers held discussions, workshops and hackathons including an address by Professor Markos Zachariadis, Professor in Financial Technology, and Information Systems in AMBS.
The Blockchainers Awards Competition 2020 winners who will each receive a £2,000 prize are:
Finn Lawton, a masters graduate of Alliance Manchester Business School. Finn has developed Trackage - the smartest solution to your mail problems. Finn aims to design a smart mailbox product including the Trackage app so mail can be delivered to your home or designated safe location and tracked using the app.
Reiji Nagaoka, a student at the Manchester School of Architecture. Reiji has developed BPMchain (Building Process Management Blockchain), a system to avoid issues which led to events such as the Grenfell Tower disaster and enables the tracking of products and workforces with verification of compliance to relevant building codes for any work completed.
We asked Alishba Chohan, co-president at Blockchainers for her thoughts on these winning projects, "The Blockchainers team and I are incredibly pleased to see two winners of the grand prize this year. We're excited to have Finn and Reiji as part of the Blockchainers community and look forward to seeing where the support of the Masood Enterprise Centre can take their business ideas."
Alishba says, "We are happy that with the help from Masood Enterprise Centre, it was still possible to bring the Blockchainers Ignition Awards to life in these challenging times and give these young founders the chance to get real feedback for their ideas, a mini "initial investment" and further support!"
Finn and Reiji told us how the Blockchainers Award will help them to further their ambitious projects Finn said "The award win has helped the Trackage team to start growing the idea into an application and software solution. Since entering the competition, the team working on Trackage has grown to 5 members. The award has provided us with increased confidence in our solution, particularly at a time when many people are experiencing the frustrations involved with ordering goods online. I want to thank the Blockchainers and the University of Manchester for their support, and I am looking forward to what the future holds for Trackage!"
Reiji said "Generation of smarter administrative solutions for the built environment ensures each stakeholder involved in a construction project is easily able to access required information resulting in increased transparency. The awarding of the Ignition fund finances the initial set-up costs associated with creating a secure, robust, and immutable database. Additional to back-end development, the fund will be utilised to further business development and network growth through securing membership of dedicated start-up incubators backed by established financial institutions."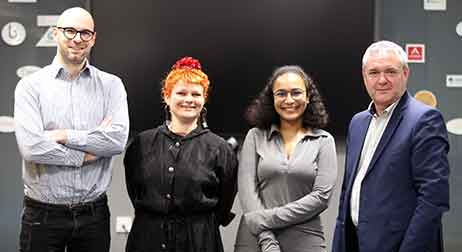 Blockchainers Competition 2020 Launch Event. From left to right: Professor Markos Zachariadis (Professor of Financial Technology (FinTech) and Information Systems), Jinsella Kennaway, Melina Villeneuve (both Blockchainers Competition 2019 prize winners), Tony Walker, Deputy Director, Masood Enterprise Centre.