Alumna Tania Farhat (pictured with her award) has won a highly prized national award for her work on a KTP (Knowledge Transfer Partnership) project between AMBS and ventilation solutions specialist AV Unibrak.
After graduating with a Masters in data science, Tania took up a position as a KTP Associate at the Bolton-based company three years ago. Now, on completion of the KTP this summer, she has been honoured with the Future Leader Award at the recently held Innovate UK KTP Awards 2022.
Data-driven
The KTP aimed to help AV Unibrak design, develop and embed an Industry 4.0-inspired data-driven business model and management information system to support its continued growth. The business has clients nationwide, working with developers across a range of construction sites on landmark developments.
As Tania explains: "My main task at the outset of the KTP was to extract all the data that the company was receiving from these various construction sites, and then seek to use it to inform better decision-making. One of the main problems that I immediately encountered was that every site was different from each other and the processes and installation phases varied from site to site.
"Another big issue was that the company's data was only being collected by head office on a monthly basis and it was not being updated in real time. But the business really needed real time, live data in order to become more efficient and productive."
App development
Tania began creating dashboards across the business from the data that was available and from all new data that was being generated from construction sites. "The central aim was to look at all the data points across the business, assess where the weak points were, and make better use of the software that the company was already using."
She also worked with her AMBS academic supervisor Dr Pedro Sampaio on creating an app which workers on site could access via specific QR codes for each building. As she adds: "In terms of workers accessing data we wanted to create something that was simple, cost-effective, and which in time could also be rolled out across the UK. During the KTP we only trialled the app at the Manchester construction sites where we were working, but the feedback was extremely positive."
Future plans
Upon completion of the KTP Tania has stayed with the business as a software engineer and business analyst, and says the company is considering another KTP with AMBS. "There is so much potential and things we could do. The construction industry is fast-moving and becoming increasingly digitalised.
"For me personally the KTP has been a fantastic journey. I have learnt an awful lot in a short space of time, and I also greatly enjoyed meeting other KTP associates across other companies too as part of the programme."
AV Unibrak Managing Director Jamie McCann added: "It's been a pleasure to work with all members of the KTP team. The structure enabled us to really focus on what we required as an organisation and guided us to complete our medium-term goals.
"Tania has seamlessly transitioned from an academic background to become integrally part of the organisation with a solid understanding of our internal and external processes both operationally and commercially. We look forward to working with the KTP team at The University of Manchester as we look to start our next KTP."
Digital journey
Dr Pedro Sampaio, Senior Lecturer in Information Systems and Data Science at AMBS, said: "I am delighted to have led this project and coached Tania in the digital transformation journey of AV Unibrak. This was a fantastic team effort including the excellent input from Dr Suzanne Embury and Dr Sandra Sampaio from the Department of Computer Science, Joanne Summers, and the University's KTP team. "AV Unibrak's leadership also deserve equal praise for their project support. Without their willingness to embrace technological innovation to improve productivity in construction processes we would not have achieved such a transformative impact."
Joanne Summers, Knowledge Exchange Manager at The University of Manchester, said: "This innovation was applied to a traditional business within the construction sector resulting in significant culture change. Tania demonstrated expertise in operational design, digital systems and change management which combined has, and will, continue to improve business performance in the long-term.
"At the Innovate UK awards it was recognised that the team and especially Tania's ability to take employees on a journey of change was exemplary. I would also like to thank Dr Sampaio for the amazing support he provided to Tania and the wider team."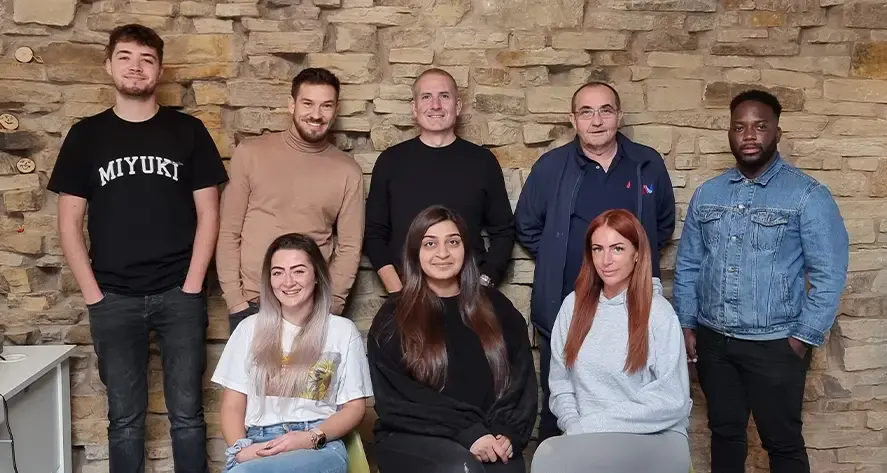 Tania (centre) pictured with members of the AV Unibrak team
*You can read more about accessing KTP funding here. For further information please contact joanne.summers@manchester.ac.uk