The beginning of this academic year has been an unconventional and different experience for many members of the AMBS community.
Our highly adaptable business and management students have been starting or resuming their studies from their homes all over the world, as well as here in Manchester. For those living in the city, the AMBS building, at the heart of the University campus and many of the fantastic services, spaces and catering outlets the School has to offer have remained open for all AMBS students to use.
On entering the building through a controlled one-way system, students are greeted by our friendly reception team, from behind the safety of plastic screens.
Everyone must maintain a 2 metre distance at all times from other people. Everyone must wear a face covering (unless they are exempted for medical reasons) when moving around the building and using public study areas, to ensure they are keeping themselves and others safe.
AMBS students can use their student ID card to swipe through the security gates. Heading up the main staircase, students will see there is a one-way system in place to make the building safer.
Throughout the building there are floor markings, clear signage on screens and placards and multiple hand-sanitising stations.
The Hive study spaces on the second, third and fourth floors are open for all students to use and there is no need to book in advance. Students can easily check-in to all public study spaces using the QR codes on the tables.
Furniture has been set out to maintain social distancing and students can make the most of a quiet, focused and comfortable learning environment.
The Eddie Davies Library is open and staff are available to help students find and access the learning resources they need. Books can be used in the library and are also available to take out on loan. The library also boasts an impressive view of the busy Oxford Road corridor to enjoy whilst studying.
The library and the Hive study space include PCs and printing facilities that can be safely used, as well as our Finance Zone.
The Finance Zone provides a total of 24 specialist computers; 16 of these dedicated PCs are available via remote access and allow students to use specialist financial databases wherever they are in the world. The remaining eight PCs are available for students to use in the building on a first-come-first-served basis. The PCs are spaced out to comply with social distancing; four of these PCs offer Bloomberg and SDC Platinum and the other four offer Eikon, Datastream and SDC Platinum.
Students can find more information about accessing the Finance Zone remotely here, and further information about how to access Bloomberg Web here. Students can use the online ResourceBooker to easily book to use the Eikon or Datastream software, including its web version. Students can find further support with accessing business data here.
Students are also able to use private and small group study spaces in Alliance MBS. Each study room is laid out to adhere to two metre social distancing and has a sign stating the maximum capacity of persons for each room. Students are strongly advised to wear their masks when sharing the space with another person.
For a refuel between study sessions, Café 65 on the ground floor is open from 8am to 5pm, serving hot and cold drinks and a tasty selection of fresh sandwiches and snacks for takeaway only. A new meal deal has recently been launched including any freshly made sandwich, crisps and a drink for just £4.
Students can take a walk around the picturesque University Green and along Oxford Road as a refreshing break from books and screens.
If students are looking for a safe study environment this semester, AMBS is open every week day from 8am until 8pm, at which time the reception service will end and the building will close. Students can also access study spaces in AMBS at the weekend between 10am and 4pm on both Saturdays and Sundays and a reception service will operate at these times.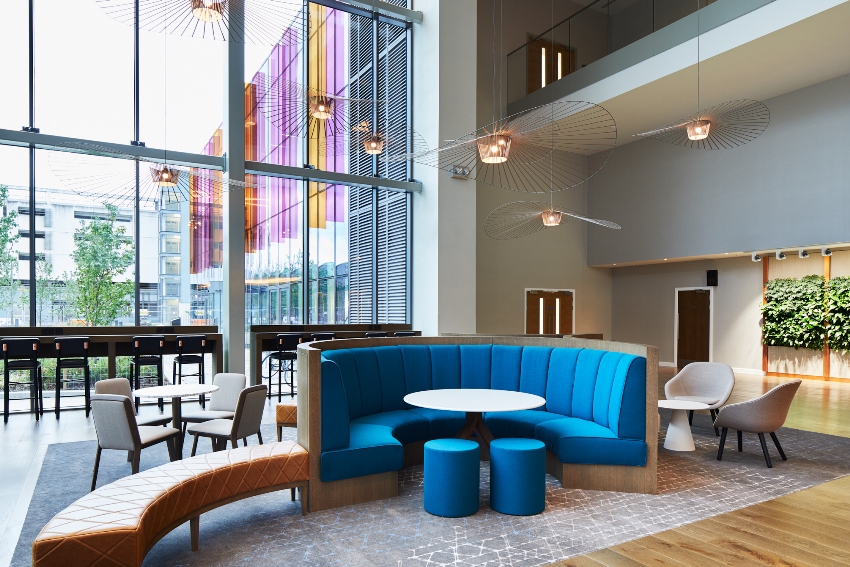 The Hyatt Regency Hotel remains open to accommodate people making essential trips and overnight stays. The hotel has preferential rates for both staff and students, with a special offer of double rooms available at a promotional rate of £80 per night until December 31 2020.
Find out more and book a room here >>
Keep up-to-date with the latest COVID-19 updates on our dedicated page >>