Sophia Kununka used her PhD in Business and Management to probe the privacy policies of mobile app providers.
Hands up if you've ever bothered to read the interminable small print of privacy policies when downloading your latest mobile app? If not, you are certainly not alone.
Concerns around the growing uptake of mobile apps and, specifically, their implications to end users' personal information privacy, was the inspiration for Sophia Kununka's PhD in Business and Management.
As she explains: "The privacy policies provided by mobile app service providers have been critiqued as difficult to understand by users and not providing any degree of control over personal privacy. This is not surprising because privacy policies are written by service providers and come from their perspective. The legal and technical details presented in privacy policies are motivated by requirements for compliance rather than the end user's ability to understand."
Research
Despite these findings, research into the design of alternative privacy policies has had limited end-user involvement. As she adds: "My research aimed to contribute to the development of more effective privacy policy representations by incorporating the end user's perspective into the design of policies."
Her research found that users expressed a clear preference for alternatives that were more structured and visual in nature. "The main contribution of my research was in establishing an understanding of the privacy policy information domain, establishing end user understanding of privacy policies, and the design of a mobile application privacy policy representation that incorporates the end user perspective. This then allows the creation of privacy policies which facilitate informed user consent and control over personal information."
Kununka now hopes to publish the work across the wider research community and translate the findings into a more market-ready product that mobile applications can engage with. "I think that my findings will positively impact on privacy policy representation to mobile app users, enabling greater user awareness and control over personal privacy," she adds.
Background
Kununka is from Uganda and has long had a strong interest in technological research. Prior to her postgraduate studies she worked as an IT officer with the Capital Markets Authority in Uganda, and then wishing to further her professional development she applied for The University of Manchester's Equity and Merit Scholarship which enabled her to pursue an MSc in Management of Projects.
After completing her masters she returned to Uganda to spearhead technological developments in the securities industry, but soon realised she wanted to further improve her research skills so applied for an Alliance MBS Doctoral Studentship scholarship to pursue the PhD.
Legal tech
She initially worked on virtual enterprise formation in industry 4.0 collaborative smart manufacturing, but is now working with the Law and Technology Initiative (LaTI) Manchester, a cross-disciplinary research project between legal services firms and The University of Manchester. Her two-year role involves conducting research, knowledge exchange, and related activities that examine innovation and the application of new technologies across the legal services sector.
As she adds: "Technological innovations and developments over the last decade are challenging the legal services delivery model. Spanning from cloud computing to mobile lawyering, from social media to artificial intelligence, technology simplifies but also complicates legal practitioners' work. Pressure from clients, competitors and regulators has resulted in a changing technology landscape in the sector."
She points to a recent study by the Law Society which found that increasing workloads, demands for greater efficiencies, and higher pressure on cost and speed from clients, was compelling the sector to embrace legal technology.
Upon completion of her contract with the LaTI, Kununka plans to further develop her profile in technology-related research and teaching, and ultimately wants to return to Uganda to "give something back" to her home country.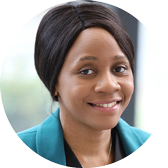 Having now completed her PhD, Kununka has stayed in Manchester and embarked on postdoctoral research.