Drew Cockton, Alliance MBS postgraduate alumnus (2009), now Managing Director and Founder of Owen Drew has won a £50,000 investment in his luxury candle business. Launching his multi award-winning luxury fragrance and lifestyle brand just five years ago, Drew is building on his success with the backing of a top investor from the BBC's Dragons' Den. We spoke to him about his journey since his studies and what's in store next for Owen Drew.
Studying at Alliance MBS
Drew first came to The University of Manchester to study for an undergraduate degree in German and Politics. He then studied a postgraduate certificate in International Business at Alliance MBS because he "wanted to compound [my] academic abilities with a greater understanding of the business world from the prestigious AMBS". Drew is very grateful for his experience at the School: "It was a brilliant six-month course, giving me a grounding in sales and marketing, finance and accounting, management consultancy and most importantly, giving me the invaluable opportunity to complete an entrepreneurial project. The course also equipped me with lasting knowledge of European markets that I have used to my advantage."
He noticed instant benefits to his prospects: "Having AMBS on my CV really opened doors and got me on the career ladder straight away. The intensive course gave me the confidence to set up my own company (a hotel on Canal Street in Manchester) which I successfully sold to an investor. It was a short and crazy venture, but it was a fantastic experience and it taught me so much."
Now living in Liverpool, Drew misses the city of Manchester a lot and maintains connections to the School and the city. "I've been back to present to students at AMBS about my experiences as an entrepreneur, and maintained close friendships from my postgraduate course."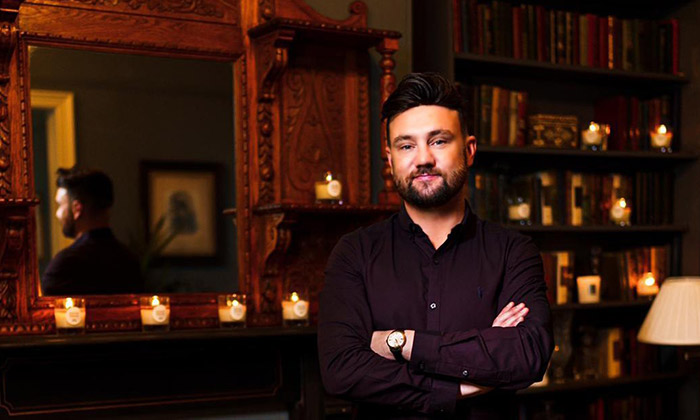 Setting up Owen Drew: Business meets passion
"My advice is if you're going to do something in business, it has to be something you are passionate about and something you know you can do better than the competition; Owen Drew was both business and passion for me."
After his whirlwind hotel venture, Drew found himself burned out and he was diagnosed with bipolar at age 22. He bravely opened up to the Dragons about his mental health struggles, and his choice to take some time out from work to focus on his wellbeing and explore his other passions. One being his lifelong love of scented candles: "I've always been obsessed with them, ever since I was a student studying in my halls of residence 17 years ago."
Drew's entrepreneurial skills, cultivated during his studies at AMBS were soon revived again, and he identified an opportunity for business and his passion to come together: "Traditional paraffin wax candles were very dirty and caused damage to interiors, so I started making my own from 100% natural vegan ingredients and a wooden wick." Inspired by his hobby, in 2016 Owen Drew was born from his kitchen table. Quickly gaining a lot of customers in a relatively novel marketplace, he took a risky plunge that has since paid off: "We had a really busy Christmas that year so I quit my job in financial services in January 2017 and launched the business full-time. We've since gone from strength to strength. We're stocked in 30 independent retailers up and down the country, have won a lot of international press, and earned over £750,000 cumulative turnover."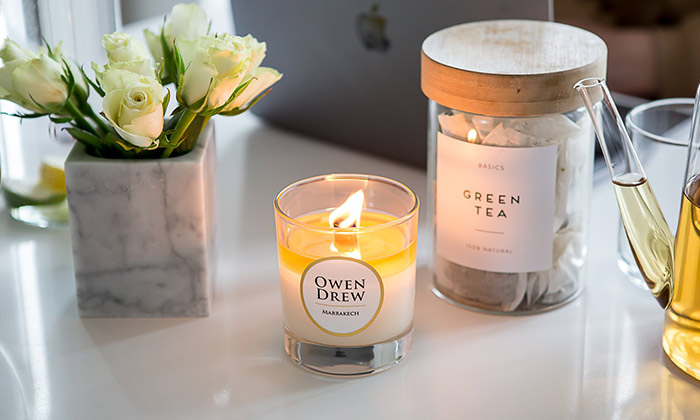 MBA consultancy projects
Drew's close ties to Alliance MBS didn't end when he graduated in 2009; a couple of years ago he decided to take part in two of AMBS' full-time MBA client projects. His business "was now at the stage when we were expanding very quickly and you get the growing pains from rapid business expansion". So the time was right to get in touch with his former AMBS course leader who "rightly suggested a team of clever students could help solve some of the business issues we were having."
Owen Drew's sole aim was to be stocked in high-end stores, but this was a time and resource-intensive strategy. MBA student teams' work concluded that focusing efforts on creating a retail arm in an international department store wasn't necessarily the best or most efficient approach. Drew explains: "We actually re-thought our whole strategy based on the findings of the teams…it was great. They advised we were better off knuckling down locally and building the business that way. Today, we still remain very much a UK business with strong links to our customer base, located predominantly in the North-West."
The MBA client projects inspired Drew to make more efficiencies and streamline the business: "We had 15 staff working over five different physical sites including stores and offices. I was very involved with and distracted by the day to day running of the business. We have reduced to one large manufacturing premises in Birkenhead, with an on-site high-end boutique and only five staff. We now have a smaller turnover, but are more profitable (up 34% on last year which is great considering the current climate)." Drew is grateful for the students' input and lasting impact of their work: "as an SME it was really useful to be part of the MBA client project and I would definitely recommend it to business leaders."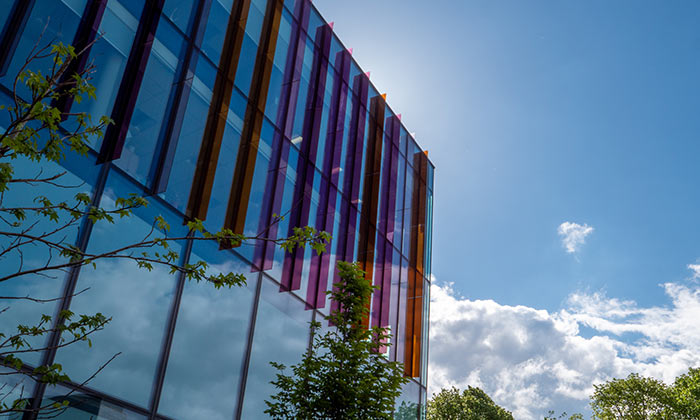 Dragons' Den experience
Drew recalls spending months working tirelessly to prepare for his daunting, "once in a lifetime" Dragons' Den opportunity, filmed last October. Despite his nerves, Drew pitched confidently to the Dragons, lighting up the den with a beautiful display of his products including the world's most expensive 24-carat gold candle.
The episode aired on BBC1 at 20.00 on Thursday 20 May 2021 (Drew's pitch featured from 44.20 - 57.09). Asking for a £50,000 investment in exchange for 10% of his company, he "really wanted a Dragon's investment, their expert input and retail buying contacts." The Dragons were impressed by his wide range of products, his strategy, and were "all really supportive and positive." But he did face some tough questions about the crowded marketplace, with four Dragons bowing out over these concerns and conflicts of interest.
One Dragon remained, Touker Suleyman, who was full of praise for Drew's strong brand. The pair settled on a negotiated offer of £50,000 investment for a 30% share of Owen Drew. Touker already has a large portfolio of luxury retail products, including the brand Ghost. This Dragon is the perfect match to support Drew's strategy for growth in the premium market, and get his products on the shelves of stores such as Harvey Nichols, Harrods and Selfridges. Drew was delighted to accept the offer: "I'm absolutely ecstatic, Touker has got so many great contacts. This is going to absolutely transform the business and I can't wait to start working with Touker."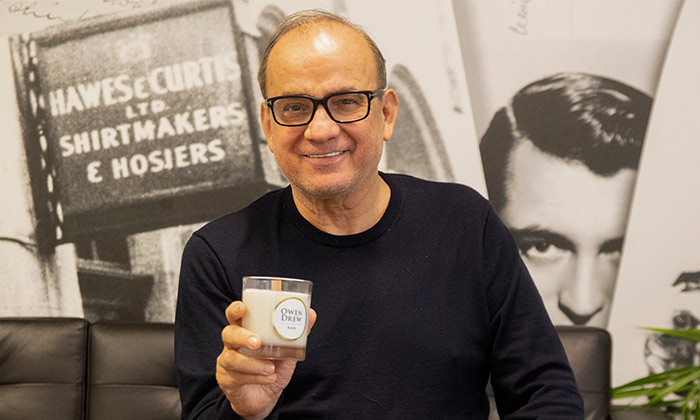 What's next for Drew?
Looking ahead, Drew is keen to continue expanding his growing range, whilst maintaining the high quality and superb customer experience the brand prides itself on. He is keen to stress, "we're always trying to evolve and do different things…our latest projects are an Owen Drew Rosé wine from Provence, and our 5th eau de parfum, both due to launch this summer." He is also exploring creating experiential retail opportunities to build social media traction and grow brand awareness and image. "Last year I bought a big property on the Wirral to turn into an Owen Drew events space, holding ladies lunches and masquerade balls."
In terms of expanding his horizons internationally, he explains: "We're at the small acorn stage at the moment and want to grow into the oak tree. It's still very early stages for us, we do have customers in the US and South Africa and we're exploring sales in Asia with a distributor in Australia. It would be great to be global; Touker can see our products launching successfully in high-end retailers in the US and Japan."
Drew is also keen to give back and support the local economy and promote equality and diversity among other North-West businesses and fellow entrepreneurs. He is heavily involved in organising the inaugural North West LGBTQ+ Business Awards taking place on 16 September 2021. Awards presented across ten categories will be an opportunity to celebrate the achievements of LGBTQ+ people in business and commerce across the North West region.