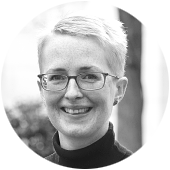 Alliance Manchester Business School (AMBS) has announced the appointment of Felicity Algate as a Professor of Practice.

Professors of Practice are senior practitioners appointed to deliver excellent teaching and scholarship activities at AMBS. Felicity has been appointed in this part-time position in recognition of her impact in the field of behavioural science.

Felicity began her career as a currency strategist and an economist at a large investment bank in 2005. She currently leads BIT: North (Behavioural Insights Team) which she founded in 2016, where she will continue to work. BIT works in partnership with governments, local authorities, businesses and charities to tackle major policy problems. Felicity collaborates with partners across the UK to use behavioural insights to improve health, tax collection, recycling, economic growth, early years and employment support. During her time there, Felicity has designed and run more than 30 randomised controlled trials. This includes co-designing the £30 million study to evaluate the impact of the Growth Vouchers programme – the largest randomised controlled trial in the world by value.

In addition to her work in the field, Felicity regularly delivers workshops and lectures on applied behavioural science, particularly for local and central government officials. In her new role at AMBS, she will be teaching across our portfolio of programmes and undertaking research on the application of behavioural science to public policy. Felicity will also work on expanding AMBS' relationships with external organisations in the private and public sector.

Felicity Algate said: "Since the beginning my career, I have worked across various economic disciplines, but I have always been interested in roles that give me an opportunity to deliver real world impact. My work at BIT has helped deliver significant social impact in terms of lives improved and money saved, and I'm looking forward to transferring this experience in a more academic setting. I'm thrilled to be able to pass on my expertise to the next generation of applied behavioural scientists."

Fiona Devine, Head of Alliance Manchester Business School, added: "I am looking forward to welcoming Felicity to the School. With her extensive behavourial science expertise, we welcome the value she will add to teaching and scholarship at the Business School, combining both real life knowledge in government and business environments with academic theory. Felicity has worked on a number of projects over time that have a clear social impact, something that is arguably more important than ever in today's climate and, crucially, closely aligns with our values at AMBS."

Felicity will join AMBS on 1st June 2020 in a part-time capacity and continuing her work with the BIT.