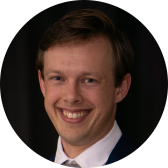 Dr Emiel Jerphanion was awarded the best paper prize at the highly prestigious European Finance Association conference in August. The following month, he joined Alliance Manchester Business School as a Lecturer (Assistant Professor) in Finance.
Emiel Jerphanion received the Best Conference Paper Prize at the high profile annual European Finance Association (EFA) conference earlier this year. The prize is the highest distinction awarded to an academic paper presented at the annual conference hosted by the largest academic finance association in Europe (the EFA). A prize committee consisting of Antoinette Schoar (MIT), Ilya Strebulaev (Stanford University) and Francis Longstaff (UCLA) selected the winning paper from a total of 243 papers that featured on the programme of this year's conference.
Emiel's paper, titled: "Does credit affect stock trading? Evidence from the South Sea Bubble" was a joint work with his colleagues from Tilburg University, (the Netherlands) Fabio Braggion and Rik Frehen. The paper studies how access to credit, feeds into investors' behaviour. The team's findings were based on collecting every individual stock transaction for three major British companies during the 1720 South Sea Equity Bubble. Results showed that loan holders are more likely to buy following high returns, subscribe to overvalued share issues and incur large trading losses. Conclusions drawn from the paper suggest that the central banks should carefully consider asset prices when defining monetary policy, since the recent lower interest rates, as well as cheaper credit, can have a material impact on investors' trading behaviour and wealth transfer among investors.
In a response to receiving the prize, Emiel, Fabio and Rik said: "We are deeply pleased and honoured to receive this prestigious award. The recognition of our research is a great motivator to continue as it shows that several well distinguished colleagues in the finance profession agree that our paper addresses an important topic in a rigorous way."
Previously, Emiel's research has also appeared on the programmes of other leading international conferences such as the SFS Cavalcade North America, Colorado Finance Summit, Adam Smith Workshop, FIRS and the AEA Conference. His research focuses on how credit supply affects saving and borrowing decisions of households and trading behaviour of investors. He is currently working on a research project that studies the effects of the rising student debt levels on families and healthcare expenses.
This September, Emiel joined the Accounting and Finance Division at Alliance MBS as a Lecturer in Finance after he obtained his PhD in Finance at Tilburg University. He said: "I was immediately attracted to the collegial and ambiguous atmosphere in the Accounting and Finance Division. I firmly believe that joining forces with academic colleagues (as well as professionals) is a key driver of producing top quality research."