Following the closure of the University of Manchester campus and suspension of face-to-face teaching, academics and students alike were thrown into the world of online learning.
This called for a lot of hard work and imaginative thinking from our Alliance MBS academics to recreate in-person learning, but at a distance. Maintaining the interactive nature of seminars and workshops is a particular challenge when teaching online.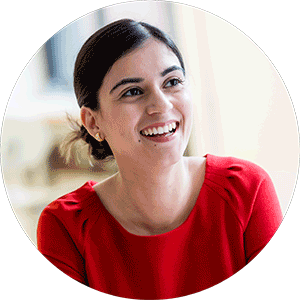 Dr Sofia Yasmin, Programme Director for MSc Accounting
"Online teaching has been a whirlwind experience, albeit a really positive one! It was something that I really wasn't involved with much prior to the Covid situation shutting down the School building. However, I can resolutely say that I and all my colleagues have taken to it with enthusiasm and careful consideration.
"My own experiences with online teaching relate to two undergraduate units where I take a very large class, one has approximately 150 students and the other has 350 students.
"Luckily we had finalised the majority of our workshops prior to the lockdown so when we moved to online learning we only had one workshop to deliver and three lectures. Given the interactive nature of accounting, it is very important that students are able to work through examples and have the opportunity to practice questions.
"In order to make the learning experience as interactive as possible, we provided a step-by-step online video for students to follow that enabled them to practice the workshop questions and lecture and then opened a discussion forum for students to highlight any issues or queries they had.
"In addition, we used live virtual office hours so our students still had that live interaction with us. These sessions were very well received by students and students have engaged exceptionally well with the discussion forums and with the podcasts.
"I have personally found the online experience to be high-quality, much more interactive and a more personal learning experience for students compared to the campus experience where students can sometimes avoid asking questions out of shyness, etc."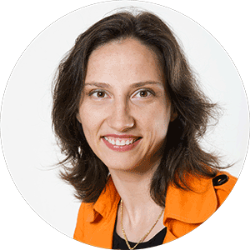 Dr Olga Kolokolova, Programme Director for MSc Finance
"Throughout my teaching and academic career, I have always valued face-to-face interactions with students. Moving to online teaching made me rethink the approach, with the goal of still being able to efficiently interact with students and guide them in their studies.
"For my Credit Risk unit, a blended approach worked extremely well. I have recorded my lectures and made them available for the students in advance.
"The lectures included not only my voice and slides, as the ordinary podcast would do, but also my hand-written derivations, graphs and explanations, which I usually do on a whiteboard in class to enrich the lecture material. To keep students engaged while watching the lectures, every now and then I would ask questions linking the new material and the topics covered in the previous lectures or real-world examples. Students would need to think about these questions before our virtual class meetings.
"Next, I met with my students in a virtual classroom via Blackboard Collaborate. We discussed the questions I posed during the previous lecture, I explained those parts of the material which students found more challenging and replied to any queries.
"What I found especially encouraging was that many more students actively participated in such discussions than during usual face-to-face lectures. The reason might be that each student could choose a communication method that was best suited to their character.
"Some students liked using a webcam to talk while others preferred to use a chat option and type both their questions and responses. I am looking forward to welcoming new students next academic year and I'm confident that they will enjoy their learning experience, regardless of the format of lecture delivery."
Read how our master's students have adapted to working in groups from home >>
Read Professor Sir Cary Cooper's 7 rules for working from home >>
Read more about Dr Sofia Yasmin >>