The challenges of running a business today were laid bare during our Vital Topics series this year as we touched on a number of key boardroom issues, Alliance MBS also hosted a number of other lectures through the year on subjects ranging from machine learning to inter-generational tensions.
Diversity
Despite the compelling business case for having more women on company boards the move towards gender equality in the boardroom has stalled. That was the key message from our debate on diversity which heard that there remained a complex - and often contradictory - array of reasons as to why more women did not hold senior management positions.
Ann Francke, CEO of the Chartered Management Institute, said: "We have a glass pyramid where women simply drop off. Women get to a certain point within a business, look up and do not like what they see. They think to themselves 'this does not fit with my life' and they opt out. Their ambition also decreases as they gradually feel less supported by the business."
Jill Rubery, Professor of Comparative Employment Systems at Alliance MBS, added that the "horrendous issue" of working hours put many women off more senior management positions. "What does part-time even mean when full-time hours are so long? There is also the issue of lack of second chances. It can be very difficult for women to get back into full-time working and there is a huge amount of age discrimination. If a woman back pedals for a while or has not 'made it' by 40 she can be written off. This is a big issue."
Mental wellbeing
The demands of modern working life were also under the spotlight at our debate on mental wellbeing in the workplace.
Sir Cary Cooper, 50th Anniversary Professor of Organisational Psychology at Alliance MBS, said although awareness of mental health issues has greatly increased in recent years, far more still needs to be done to tackle it in the workplace. He said that stress remained "a four-letter word" in the office despite the huge cost to employers - and impact on productivity - of mental health.
"How many people would actually be prepared to tell their line manager today that they had a mental health problem? I fear the number is still very small. We have to get more people talking about these issues. In terms of awareness of mental health I would give it eight out of ten. But when it comes to tackling it I would say it's nearer three."
Sir Cary said that wherever you are from in the world, a quarter of people will suffer from depression and anxiety during their lifetime. "Yet here in the UK the NHS spends less than 10% of its budget on mental health. We need far more parity in terms of spend between mental and physical health."
Human rights
The human rights responsibilities of global companies were discussed when Michael Posner, Professor of Ethics and Finance and Co-Director of the Centre of Business and Human Rights at New York University's Stern School of Business, led a discussion on the growing research field of business and human rights and the responsibilities of the modern-day corporation.
Prof Posner said half of the largest 100 economies in the world were not states but private companies. "It is not surprising that people are saying 'what should these big global companies be doing as we try to set the rules of the road'."
He said the debate about globalisation had become more pressing in the wake of the US election result and Brexit. "The world is suffering from a governance gap. It has some weak governments which are either unwilling or unable to protect their own people, while large corporations are operating in those weak states often because there is a lack of regulation or because it's cheap to do business. The question for all us is how do we begin to navigate this increasingly complicated global space where a lack of equality or sense of disenfranchisement is so prevalent throughout all our societies? How do we create a sense that there is some fairness in the global economy?"
Cyber security
Meanwhile our debate on cyber security made for sobering reflection as our panel warned of the ever-increasing dangers of attacks.
As panellist Katherine Kearns, Principal Consultant at the NCC Group, warned: "Companies have done a lot of things right, but it is not a matter of if but when they will come under attack. Attacks are becoming larger and more scalable, and because of the success of ransomware attacks that trend is likely to continue."
Carolyn Harrison, Marketing Director at BeCyberSure, said a lot of breaches were down to human error and one of the issues for the industry was that people were getting away with not declaring breaches. "The media stories we see on virtually a daily basis are just the tip of the iceberg. Criminals will ultimately go after things that are easy to get. They just want to get money as quickly as possible."
Harrison said forthcoming EU General Data Protection Regulations, which aim to strengthen and unify data protection, will represent a "seismic" change when they come into force next year. "Under the regulations companies will have to declare breaches within 72 hours. This really elevates the issue and puts it in the boardroom."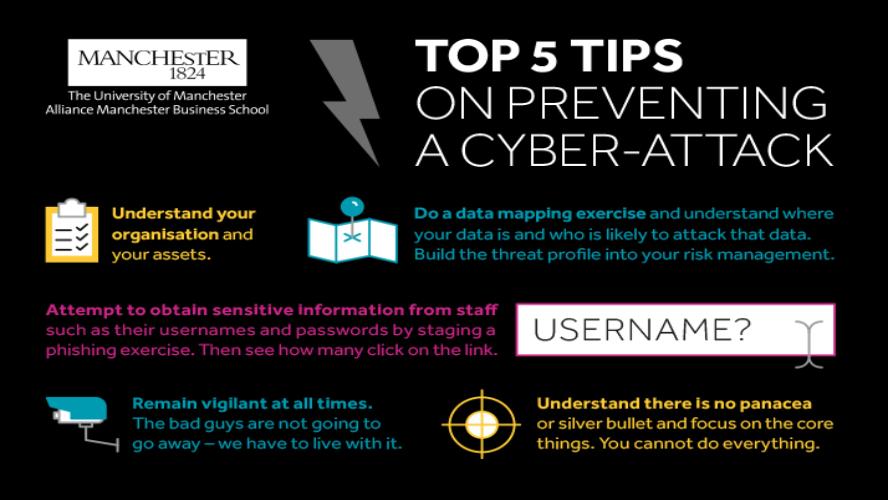 Alliance MBS also hosted a number of other lectures through the year on subjects ranging from machine learning to inter-generational tensions
Machine learning
The opportunities and threats posed by machine learning were debated during a lecture by Hermann Hauser. Dr Hauser, co-founder of a string of high-tech companies including Acorn Computers and of venture capital firm Amadeus Capital Partners, said machine learning was a rare horizontal technology that could be applied right across society. "It can be applied to most, if not all, sectors. It changes everything and creates new business models."
He cited the example of the automotive industry where machine learning is the key to autonomous driving. "Here is an industry which is being impacted by two spectacular disruptions. One is the electric motor, and the other is autonomous driving."
Looking ahead he stressed that at the heart of machine learning was probability. "If you want to describe the real world it is much better to associate probability to all things you observe. It gives you a more powerful way of predicting what happens next."
Oil supplies
Global energy markets came under our gaze at a lecture from Spencer Dale, Group Chief Economist at BP.
He said that low-cost oil producers will start to question why there are rationing supplies and this will have "huge implications" for the oil market. He said in no other industry could you have a country such as Saudi Arabia, where it costs just $10 to produce a barrel of oil, operating in the same market as a country like Canada where it costs $30 to $40.
"There are 2.5 trillion technically recoverable barrels of oil, more than enough to meet world demand for oil until 2050 twice over. We are not going to run out of oil, so why are we rationing it? I can see low cost producers all starting to question why they are rationing oil, but the pace at which that will happen is unclear."
Dale said this issue had major significance given the soaring demand for energy in coming years from emerging economies. He said the world faced a dual challenge – it needs more energy to meet this soaring demand but less carbon. "Solving this is the big challenge we all face working in the energy industry," he added.
UK society
The changing dynamics of UK economy and society were discussed at our annual Grigor McLelland lecture which heard that inter-generational tensions are likely to continue growing as young people face up to the fact that they are worse off than the generation before them.
Torsten Bell, Director of the Resolution Foundation think tank, said the golden rule that earnings would always increase in line with national GDP had now been broken and this was having significant consequences.
"There has always been a certainty that national progress feeds through to individual progress, but that link has been broken. The young are not feeling optimistic about the future because the things they thought Britain was going to promise them in terms of a job, and the things they saw their predecessors achieve, are not what they are getting."
Research from the Foundation's Intergenerational Commission found that men in their 20s will earn on average £12,500 less by the time they reach 30 than men of the generation before them. Bell said this was partly down to the severity of the recession, but added that poor pay growth among the Millennial generation preceded the financial crisis.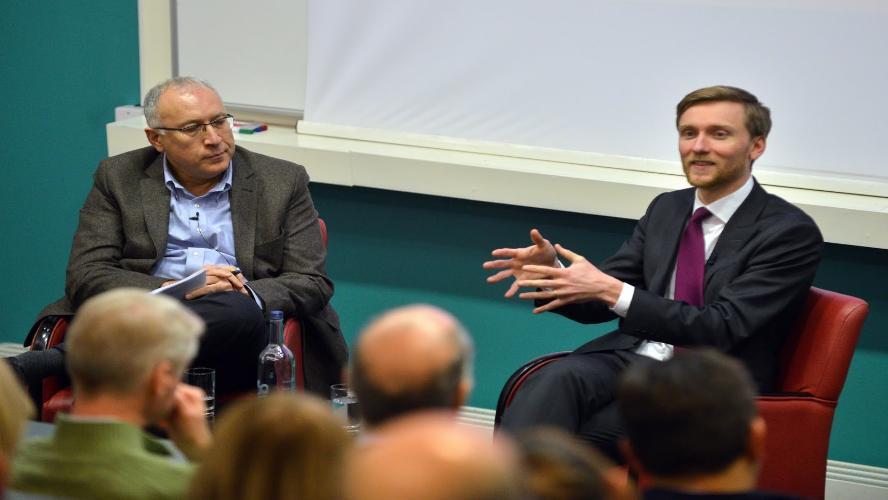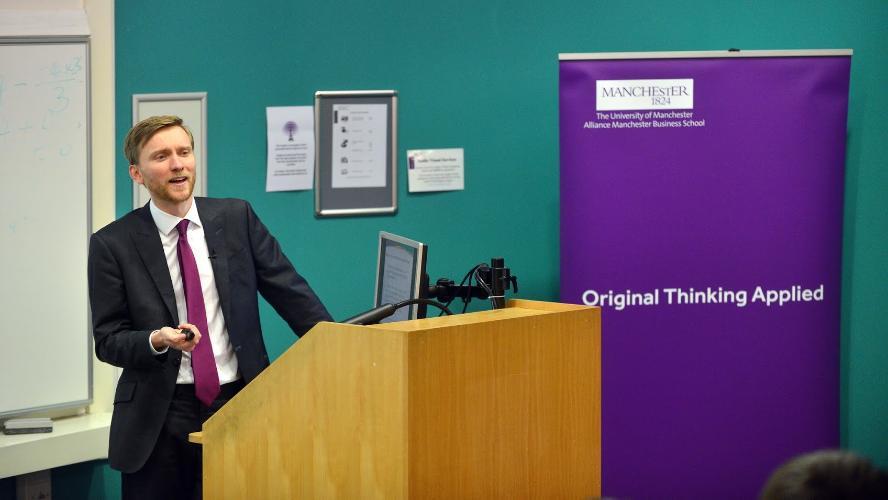 Devolution
The Treasury should have specific responsibility to promote greater fiscal devolution in the UK regions, according to the author of a major review of the government department.
Unveiling his report 'Rethinking the Treasury' at a lecture at Alliance MBS, Lord Kerslake – the former head of the Civil Service – said passing down more responsibilities to cities such as Manchester without meaningful fiscal devolution amounted "not to devolution but decentralisation".
"If you could achieve real devolution and combine it with a proper place-based industrial strategy and investment in transport infrastructure, then you could begin to reverse regional imbalances," he said.
Lord Kerslake said continued economic growth cannot disguise long-standing structural problems in the economy. He added: "The gap between rich and poor is rapidly accelerating, while we have a massive regional imbalance which has seemingly grown inexorably. London is the wealthiest region in Europe, and London and the South East account for 40% of national output. Yet outside London no region in the UK has recovered its output from where it was prior to the financial crash."