Tuesday, 18 April 2023
Science, Innovation and Intangibles: a place-based perspective
At this Vital Topics event we will be joined by Stian Westlake, CEO of the Royal Statistical Society, and incoming chair of the UKRI Economic and Social Research Council.
Event Time

18 Apr 17:00 - 18 Apr 18:15
Event Location

Alliance Manchester Business School (online also available)
Event Type
Stian Westlake, CEO of the Royal Statistical Society, and incoming chair of the UKRI Economic and Social Research Council, will give this Vital Topics lecture at Alliance Manchester Business School.
Science, Innovation and Intangibles: a place-based perspective
One the UK's oldest and toughest social and political problems is the gap between the rich but economically overheated south-east and the country as a whole. Governments have made many attempts to solve this problem, but to little avail.
In his lecture, Stian will explore how regional inequality is being exacerbated by the wider shift from physical capital (factories, buildings) to intangibles (ideas, brands, skills).
He will also discuss the political economy of fixing the issue – which involves solving one of two very hard problems: significantly increasing the productivity of poorer towns and cities, or intensifying development in rich places that have historically been reluctant to grow.
Stian Westlake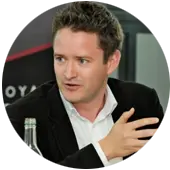 Stian is the Chief Executive of the Royal Statistical Society (RSS), and has recently been selected as the next Executive Chair of the Economic and Social Research Council (ESRC) at UK Research and Innovation (UKIR).
He is co-author of "Capitalism Without Capital, a critically acclaimed book on intangible investment. He also co-authored "Restarting the Future", a book about what has gone wrong with the modern economy and how to fix it.
Stian's research is centred around the economics and politics of innovation, research and technology. He is a regular commentator on science and innovation policy and has served as adviser to three British ministers for science, innovation, research and higher education. Before that, he led a 50-person policy and research team at Nesta, the UK's national foundation for innovation.
Earlier in Stian's career, he worked as a strategy consultant specialising in healthcare, technology, and corporate and infrastructure finance. He also made and managed investments for a social venture fund and worked as a policy adviser at HM Treasury. He has been responsible for a number of projects relating to data and evidence, including the RSS's COVID-19 Task Force, the Alliance for Useful Evidence, the Innovation Growth Lab and the Innovation Index.
There will be refreshments served with the opportunity for networking after the lecture for those attending in person at Alliance MBS.
The lecture will be facilitated by Richard Jones, Professor of Materials Physics and Innovation Policy, Vice-President for Regional Innovation and Civic Engagement, Co-Investigator of The Productivity Institute, University of Manchester.
Vital Topics
Vital Topics is Alliance MBS' series of prestigious business lectures, bringing powerful ideas and original thinking to audiences from the Manchester city-region and beyond.
Find out more about Vital Topics.
In association with: