Thursday, 27 June 2019
Scale-Up Partnership: Skills & Talent
Hear from Nisha Katona MBE, founder of Mowgli Street Food restaurants.
Event Time

27 Jun 17:00 - 27 Jun 19:00
Event Location

B Works, 48-50 Market Street, Manchester, M1 1PW
Event Type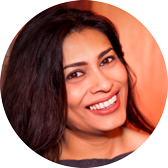 Hear from Nisha Katona MBE, founder of Mowgli Street Food restaurants, who will discuss how she attracts the right skills and talent to her business and why it is important for scale-ups. This event is part of our Scale-Up Partnerships, a series of keynote talks and panel sessions for ambitious scaling up businesses in the North West that allow businesses to learn from the experience of those that have been on the journey.
Nisha Katona was a child protection Barrister for 20 years and is the founder, CEO, executive and development chef of Mowgli Street Food restaurants. She taught Indian cooking for many years and started a YouTube tutorial channel. She opened the first Mowgli on Bold Street Liverpool in 2014 when she was still working full time as a Barrister. The popular restaurant expanded quickly to Manchester just a year later and there are now 8 Mowgli restaurants with a further 3 sites to open this year. Mowgli is about how Indians eat in their homes and on the street, parred back and unplugged. As well as mother to Mowgli, Nisha has two teenage girls and is also the author of 3 cookbooks: The Spice Tree, The Mowgli Cook Book and Pimp My Rice. She has also worked extensively with the BBC on several projects all championing the importance of simple home cooking. Mowgli continues to pursue its dream to become a national voice for good, home style, fresh, clean Indian food.
Alliance Manchester Business School is proud to be working closely with CYBG and DWF on this initiative.