Wednesday, 14 April 2021
Original Thinking Webinar - Strategic thinking in a changing world
This Original Thinking Webinar will be hosted by Alliance MBS' Mark Healey
Event Time

14 Apr 16:30 - 14 Apr 17:30
Event Location

Online
Our Original Thinking webinar series showcases some of the world-leading research from colleagues at Alliance MBS.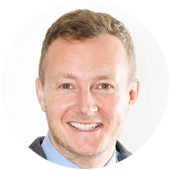 This episode will be hosted by Mark Healey, Professor of Strategic Management at Alliance MBS. His research focuses on cognition in organizations, particularly applied to strategic decision making and the wider strategic management process.
What does it take to think and act strategically? Strategic thinking is one of the most coveted skills in business but it remains poorly understood.
In this lecture, Mark will argue that the classical view of the strategic thinker as an aloof cool calculator provides a misleading view of the skills required for effective strategic thinking and action in today's dynamic and complex business world. Rather, we need to see strategic thinking as an adaptive, embodied and collective process, which involves regulating the thoughts and feelings of oneself and others to think and act flexibly in an increasingly changeable world. Mark will draw on his own research to examine what we know about the capability for strategic thinking – and what more we need to know.