Wednesday, 2 October 2019
Innovation Begins at Home: Professor Andy Stanford-Clark, CTO, IBM
From the house that tweets to bringing dinosaurs to life, Andy Stanford-Clark, IBM Distinguished Engineer and CTO of IBM UK is a master inventor with experience of innovating in both his personal and professional life.
Event Time

2 Oct 14:00 - 2 Oct 16:15
Event Location

Kilburn Building, Lecture Theatre 1.1, The University of Manchester
Event Type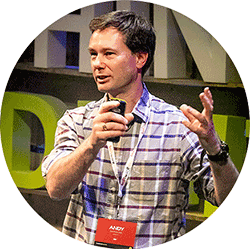 A self-confessed electronics hobbyist, specialising in technologies which help to make the planet smarter, Andy is a software engineer with a difference. As a TEDx speaker and with appearances on the BBC, Andy is well versed in sharing his amazing career highlights and what life is like at IBM – an environment in which it's OK to innovate.
If you want to hear about how to rapidly innovate technology products in the areas of IoT, AI and Quantum Computing then this event is for you.
Register now to hear about Andy's exciting IoT projects and how he's using automation to solve the world's problems.
Speaker bio:
Prof Andy Stanford-Clark is the Chief Technology Officer for IBM in UK and Ireland. He is an IBM Distinguished Engineer and Master Inventor with more than 40 patents. Andy is based at IBM's Hursley Park laboratories in the UK, and has been working in the area that we now call the Internet of Things for more than 20 years. He has a BSc in Computing and Mathematics, and a PhD in Computer Science. He is a Visiting Professor at the University of Newcastle, an Honorary Professor at the University of East Anglia, an Adjunct Professor at the University of Southampton, and a Fellow of the British Computer Society.