When I first moved here, many people here have told me that winter in Manchester can be a bit of a depressing time. From grey skies to an abundance of rain, early sunsets, and late sunrises – there is some truth to that, I am not going to lie. Lucky for me, I come from a pretty rainy place myself, so there was not a lot of adjustment necessary.
But still, I tried to look beyond the first impressions and find some beauty in my surroundings and a bit further behind. And let me tell you, I was successful! I have already expressed my appreciation for Manchester in previous blogs and this sentiment still stands. I still love walking back and forth between the University and the city centre in the search of new routes that help me discover new things on my way. I can only recommend the challenge of crossing through as many of the parks as possible on your walk – they are usually beautiful and sometimes hold nice surprises!
Recently, I have also started leaving the city behind a little more and looking for what there is to discover in the surrounding areas. Especially in the rural ones, as even though I love living in the city, I always appreciate a good day away from the hustle to enjoy the peace and quiet that nature has to offer. Most recently, I went on a day trip to Southport to spend a day by the seaside and take a walk along the pier.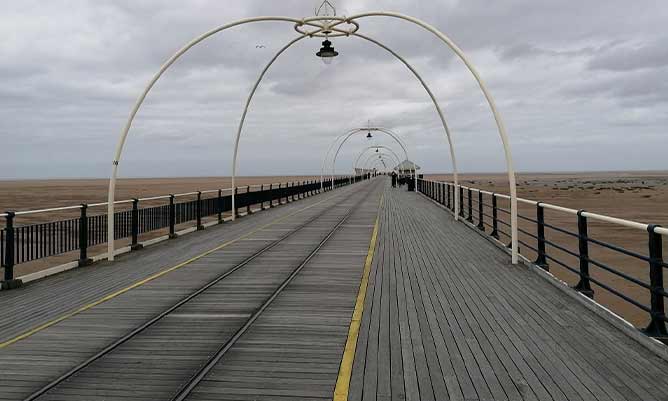 Even as courses have started again, I will try my best to keep some free time available to further explore the surrounding area. In university, especially during a postgraduate degree, it is surprisingly easy to get sucked into work as there is always something to do. When I am asked for advice from people who are about to start university, I also like to recommend scheduling some designated time off from reading and studying and just making some fun plans. I have always enjoyed exploring by myself, but of course, it can be an even greater experience to take some friends along with you!
For example, next weekend, I am going to go to London with some classmates. While we have not made explicit plans yet, I am happy to go on an adventure with my friends. Whether it is strolling up and down the Thames River, discovering new things in the Camden markets or going for a nightly walk through China Town or simply going for a drink or two in a bar in the city centre – London is only about two hours away by train and only one of the many places close to Manchester that are always worth a visit!