It's that time of the year again to start job applications for your placement year or graduate job, but things aren't exactly the same as they were previously. Employers are struggling to find the balance between staying afloat and recruiting new talent, alongside ways to reach out to candidates during lockdown and travel restrictions.
A majority of applications start off with filling in your personal details including university modules and your address, the second stage by default is passing the situational-judgement test (SJT). This step involves answering multiple-choice questions regarding different scenarios you may encounter at the company. Some typical examples are related to balancing workload, ways you would engage with feedback received from your manager or peers and learning project-specific skills as you go.
Once you pass the SJT, companies often have a third interview stage to understand you as an individual, more commonly known as the job simulation. This is where you often demonstrate your motivation for applying to the company/role and a chance for you to differentiate yourself from other candidates, so it's best to practice bringing out your best side on screen.
1. Reason for applying to the company and industry:
This is one of the most common questions asked as it is a chance to show off your knowledge. Take advantage of this answer to link your justification to real-life examples or a personal anecdote. The most important advice I'd give for this section is keeping in mind of the company's values to convince the recruiter you understand the company culture and will be able to fit in. Additionally, it is imperative to use this when answering scenario-based questions.
2. How are you fit for this role?
It's easier to develop an answer with the help of examples from previous work experience or your degree modules as it justifies with existing skills you may possess and how you can bring this into the company. If there are specific skills/experience they are looking for that you don't have, you can talk about times when you've learnt new skills quickly and how you'll be able to do this in the job.
3. Current affairs
It's always good to do some background research about the sector's and company's latest innovations or events they have been involved in and apply this to your answers. Whether this be something exactly related to the role or something that caught your eye, express your attraction to prove knowledgeability.
4. Time where you worked in a group or a challenging task:
This is a generic question for which your answer must always be ready. Often companies take interest in critical analysis and problem-solving skills, and by answering this question using the STAR method you can ensure you don't skip anything out. Again, relate your answer to the culture of the company and the skills required in the job description.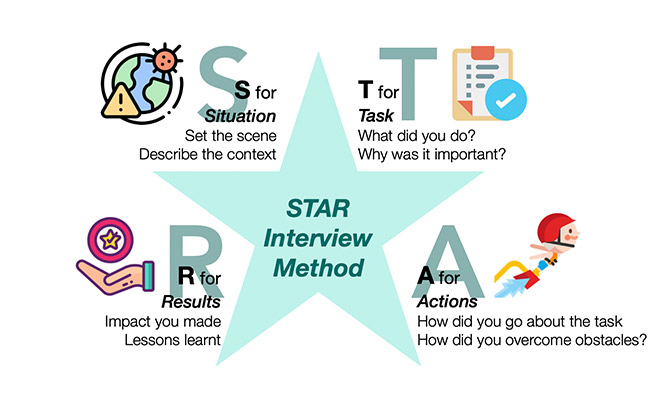 Hope these tips on how to research and prep for your video interview were helpful, good luck and make sure to dress formal!