Before I started the Full-time MBA and discovered my flare for entrepreneurship I had been working in insurance for most of my life. I have been always passionate about developing my own ideas, and wanted something more to get me up in the morning.
In 2010 I decided to open a restaurant in Colombia, this was my first venture that I put all my savings into and started alongside my job in insurance. It was not a success and I lost everything within 6 months of opening. An investor I knew at the time from Peru would not commit to the restaurant, but we always stayed in contact.
After my last trip to Colombia, I went back to Peru and spent some time thinking about what I wanted to do next. My family had a farm in the south of Peru, so I invested my time into researching crops that could be grown and sold there. Through lots of research and attending food shows across Peru, I came across quinoa. With quinoa being grown in the south of Peru our farm was perfect land for this. The grain was also starting to take off around the world, so it was the best time to start farming quinoa.
The start of my journey
I had no experience of growing quinoa, but I did my research and I met importers and connections in the food industry who aided me. Also my dad and Uncle Leo had great experience growing crops which helped us when we started to produce. Our first crop of quinoa was in late 2013 and this resulted in a double yield which was amazing. 2013 was the year of the quinoa grain: there was a boom all over the world in countries like UK, US and Canada. With such a high demand for the crop, I managed to earn back all the money I had invested into the Colombian restaurant. I had learnt how to trade the crop well, so alongside my dad and uncle we shared our wisdom with other small farmers and offered to sell on the produce for them.
After a while I realised that growing crops was very volatile, as selling raw materials had too many variables. I needed a good product that I could sell using quinoa as my key ingredient. I took a walk through the supermarkets and the baby food aisle stood out to me. It was filled with lots of fruit based products, but nothing that used quinoa. I did my research and it seemed that quinoa would be a good ingredient to use in baby food, due to its healthy properties. I started mixing quinoa with different fruits and vegetables, for example avocado, in my kitchen with my parents, which I really enjoyed, especially starting this idea with my family.
After spending some time creating these food mixtures I booked to attend an event in Peru with parents and babies. I printed off posters listing the various health benefits of quinoa and sold samples of the various mixtures I had created in my kitchen. The demand was so great that I sold out almost immediately, and all the parents wanted to know where they could get this product. It was at this point that I knew I was on to something with baby food and quinoa.
I needed to get out of Peru as developing a baby food was difficult. The regulations for approval are so high that you need the best factory. I thought it was the best time for me to pack my bags and study an MBA abroad. This would give me access to more opportunities to help my business and also further networking potential.
Coming to Manchester
Helen from admissions was my contact at Alliance MBS. I spoke to her about my background and the product I wanted to develop. She mentioned that AMBS offers an entrepreneurship scholarship, so I decided to apply for this. I received the scholarship, quit my job and followed my dream of moving to the UK, studying an MBA and starting my own company.
Studying the MBA at Alliance MBS gave me so much support for my company, I learnt so many new skills that helped me get to where I am today. I spent the months when other classmates did internships focusing on the development of my company, attending trade shows and networking with potential investors. Throughout my MBA I spent a lot of time travelling between London and Manchester in the hope of developing my idea and meeting new people. Once the MBA ended in March 2018, I had developed many connections for my company and it was not time to go home to Peru. I applied for a graduate entrepreneurship visa, which made me focus hard on gaining investment for my company. I needed to show the company was going somewhere in order to renew the visa.
Developing Little Inca
Securing the first investment was a challenge, but I had stayed in contact with the initial investor from when I opened my restaurant in Colombia and pitched the idea to him. He believed in the project and saw a good opportunity so this was how we managed to secure our first investment. With funds now on hand with one investor and also food science expert's partners on board it was time to really develop the business. To hire a marketing team for a start-up is expensive, so we did this ourselves. I took my laptop to family hotspots, such as parks and did my own market research, showing the concepts and designs to different parents I met. From this research we got the final name and designs, and Little Inca was born.
2019 was an extremely stressful year for me. I finally managed to get an investor for the company, but I realised we did not have the complete product to start mass producing and we also didn't have any clients selling our product. It was then back to trade shows, further networking, growing the product and creating the packaging. Once I could show off an actual finished product and not just samples, people started to take us seriously and have interest in us. I finally secured a good factory off the back of a trade show, which was based in Italy. I now needed to find another investor who could help with the launch of the product in the UK with the right expertise in the industry.
Throughout my journey, I had stayed in contact with a British business man who had become a mentor to me and advised me, since first meeting in 2017. I decided to reach out to him after I had secured my factory and was ready to start production. Thankfully he decided to invest in the company, which was great news, as he had excellent knowledge of fruit and vegetable distribution in the UK and Europe, and his company was awarded Top 100 Fast Track Best UK Companies for two consecutive years, which encouraged us to develop more strategic thinking on the business.
By the middle of 2019 I had secured good investment in the company and also the government granted me a start-up company visa to stay in the UK. Now it was time to start finding distribution and developing the market and little did I know this would all happen at the same time as a global pandemic.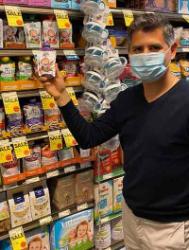 Finally, in 2020, I launched the product in March just as we hit lockdown, I was worried how I was going to get my brand known, as no one would see it in the shops. We had no choice but to take everything online and launched through Amazon on the 2nd March 2020. Marketing budget was still tight so I contacted mum influencers through Instagram, sending them samples of Little Inca to then showcase on their Instagram pages to raise awareness of our product. When lockdown hit the UK the demand for baby food was high and we sold out immediately. Everything was going well for us online but we were unable to have meetings with retailers, so taking the product offline in store was proving difficult.
In time I managed to get meetings with retailers and we launched in Wholefoods across London in May 2020, and in Holland & Barret online in August 2020, this was a great achievement for me. Looking back over the last 12 months I do believe the Covid-19 crisis helped my business. More people were actually searching online for healthy products so we were more visible than maybe we would have been without the pandemic.
Where we are today
Today the product is ever expanding, we started 2021 with more pitches to big retail companies and we have more products and formulas in thepipeline. I am very pleased that I have an amazing team. We are also undertaking research with doctors on gut health to add to marketing campaigns and credibility. We've have been selected as a Top 3 Best Baby Food in the UK, Top 10 Food Trend 2021 according to Whole Foods, and we are Top 5 Best Sellers on Amazon UK. We have also been selected as one of the best start-ups out of 90 candidates in the Voila Start-up Arena competition in Germany, the 8 most convincing concepts have received an award and we were nominated by the biggest drug store in Germany.
Coming to the UK was the best decision I have ever made and has been life-changing for my career, I am looking forward to the new challenges to come and I am excited for what the future holds for Little Inca.
Find out more about the Full-time MBA >>>
.