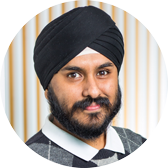 Why did you choose to study this Master's course at Alliance Manchester Business School?
I was looking to upskill myself from a technical geoscientist to a more commercially savvy executive to bring back value to the company I was working with in Malaysia. Alliance Business School as one of the best Business Schools in the UK brings exceptional value especially in the client-facing project, allowing us a 3-month real-life experience working as a business consultant helping real-life clients with their growth. Additionally, the students in the course come from various backgrounds which provides a wonderful networking opportunity.
What were you doing before your MSc?
I worked as an Exploration Geoscientist for an Oil and Gas company in Malaysia, PETRONAS. Worked as a technical geoscientist for the last 10 years.
What are your career plans after graduation?
I am hoping to help PETRONAS chart their energy transition plan from an oil and gas-focused company to a cleaner energy company. I plan to use my business analysis and strategic management knowledge gained from the Alliance Business School and implement related strategies for this energy transition.
What is the best thing about studying at Alliance MBS?
As Alliance MBS has very high-level selection criteria, the students we meet are elite and future leaders. The students from the course come from various backgrounds, crème of the crops from their countries, and are very hardworking individuals. This provides me with a lovely opportunity to get to know young leaders from many countries.
How much time do you spend in classes and in private study?
As a mature student with work experience, I learned that focusing in class is the most important part of learning. Discussions with other classmates help give various perspectives as well. I do not spend a lot of time studying privately but more in groups. I spend about 5 to 6 hours daily at the AMBS.
How would you describe your student experience so far?
It's been an amazing experience having great classmates and wonderful lecturers willing to meet with you to chat about anything and everything. Being a student again after many years of working is nice. People are open to meeting up in general as students, and there is a sense of togetherness as long as you are a student of the University of Manchester.
What's the best thing about living in Manchester? Or if you are living remotely for this semester?
The people in Manchester are nice, it's a city yet it isn't as busy as London, people are willing to stop and check on you. The connectivity through the public transportation is really good, I get to go anywhere in Manchester using the busses,
What advice would you give to those considering studying at Alliance MBS?
The Alliance MBS is an amazing place with people from around the world, take this opportunity to create networks and build relationships. These lasting relationships will go a long way.