Hello everyone! My name is Eli and I'm from the Czech Republic. After completing my undergraduate degree in Spanish and Chinese at the University of Manchester I have decided to stay here a bit longer and do my Master's in Human Resource Management and Industrial Relations. I love travelling, learning new languages, iced coffee and singing my heart out to Taylor Swift.
The first couple of days in a new city where you don't know anybody can feel very overwhelming and the thought of leaving your hometown, family and friends is super stressful. There were hundreds of questions going through my mind as I was sitting on the plane going to Manchester. Will I make any friends? Will I like my accommodation? What if I don't like my course? Luckily, all of these scenarios ended positively and my concerns disappeared as soon as I arrived.
Before the semester even started, the AMBS organised a trip to the Lake District for my MSc Human Resource Management & Industrial Relations programme where I got the chance to meet my classmates for the first time. We spent an entire day together, participating in team-building activities ranging from learning each other's names, exploring the Windermere lake on a canoe or climbing the trees together. The trip was an incredible way of getting to know my classmates, socialising and allowing us to start our course with new friends and a lot less anxiety.
The university's campus is really nice because it is big enough to have everything you need to help you with your studies - lecture theatres, libraries, study spaces. If you need a quick break from studying, there are plenty of cute coffee shops or brunch places to refuel as well and catch up with your friends. The AMBS building offers a wide variety of study spaces with comfortable chairs and a peaceful atmosphere, which motivates you to study. Despite the size of the campus, it's conveniently situated about 15 minutes walking distance from the city centre and so you can always go and do something fun there as well.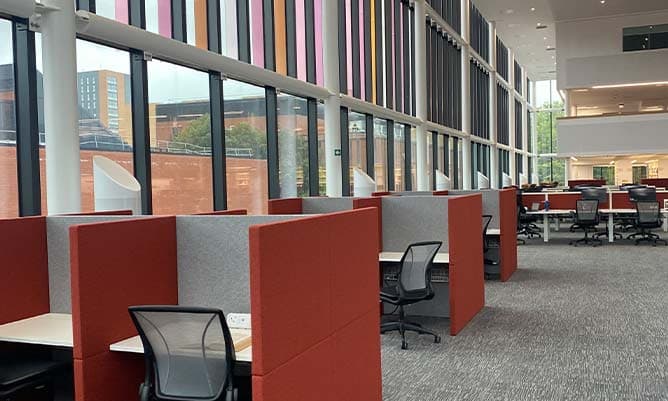 I personally love walking around the city, looking and taking pictures of different buildings, especially when it's sunny. The route along the canals here is pretty cool and something not too many people know about. Manchester has a mix of historical and modern architecture which presents some unique picturesque views. You can visit different art galleries, museums or the Manchester Cathedral to really understand the city's rich history.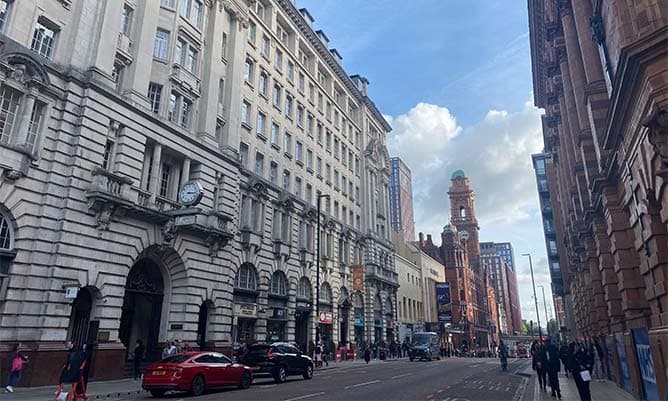 With plenty of societies for you to join, it is super easy to find new friends. In the past, I've really enjoyed the cheerleading and volleyball societies as well as some country-specific ones - Czechoslovak, Chinese, Latin American, etc., which are open to absolutely everyone. AMBS also organizes biweekly speaker series and MSc socials where you can meet students from different programs and it is a really good chance to network.
Overall, the first few months of my program have been really fun and I'm looking forward to what is to come.