The second Semester started in late January and it was time to decide on the elective modules. The electives I chose are "International Marketing", "Digital Business" and "Consumer Behaviour".
So far, we are in the second week of class and I am enjoying my classes. But I have to say that one of the most exciting things about this semester is that we can finally have classes in our new, beautiful and colourful Alliance Manchester Business School building. It was the moment we have all been waiting for and we are amazed by the facilities. Especially, because the Eddie Davies Library is right under the classrooms and it is huge!
So, for the Second Semester we have four classes: Marketing & Communications Professional Analytics (which runs the whole year), and the three electives of your choice. You can choose between Consumer Behaviour, International Marketing, Business to Business, Digital Business, Retail Marketing, Corporate Social Responsibility, Integrated Marketing Communications & Advertising, and Services Marketing. All classes take place at different times so there are no overlaps and are taught by professors with a variety of backgrounds and lots of experience. I like the fact that classes include Case Studies and examples that not only come from books or articles, but also from their experience as Marketing professionals. Thus, according to that criteria, you will be able to add or drop modules until the second week of the semester and choose the ones you like the most.
But it has not all been classes and study in the first few weeks. This February I got to see snow for the very first time. Yes, snow in Manchester! And I have to say I was not the only one excited for it, as some of my classmates have never seen snow before either. Thus, after one of our classes my classmates and I took a break and decided to enjoy a snowball fight and build a snowman next to the green areas of our AMBS building. It was a fun (but cold) experience that we enjoyed to the fullest!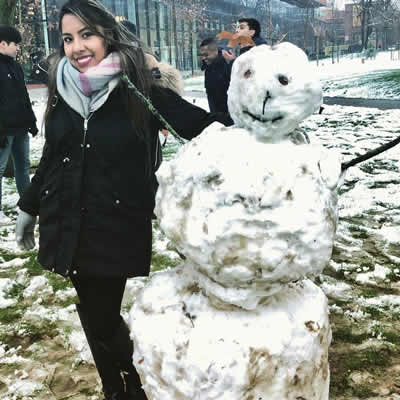 During these months it is going to be rainy and cold, so I suggest wearing warm coats and always carrying an umbrella. However, despite the rain, days in Manchester are unique, and I have to add that we have also had many sunny days.
I have to definitely mention that the new AMBS building has brought new vibes to our classes. The classrooms are big and have state-of-the-art technological features to enable good learning. In addition, computer clusters and study rooms are all around the second and third floors. In addition, the Eddie Davies Library is easy to reach for everyone and is right next to the floor-to-ceiling windows, which hold an incredible view of Oxford Road and brings in lots of natural light. I can't avoid saying that we also enjoy restaurants and cafes on the ground floor of the building. Some of them are: Five Guys, Mowgli, Takk, Brew Dogs, The Hive Café, Café 65, Pret a Manger, and Co-op.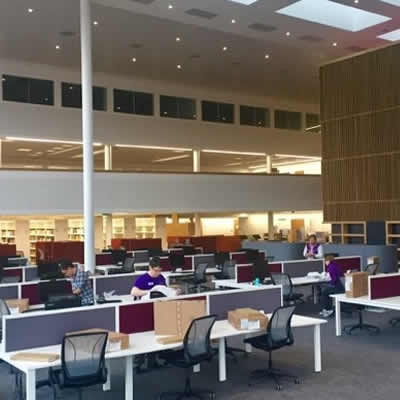 Finally, I got the chance to experience Chinese New Year's Eve with my Chinese and Taiwanese classmates. We enjoyed a nice dinner together at a Chinese Restaurant in Oxford Road and they shared with us their traditions on that special day. Many of them missed their families, but these moments make them feel home away from home. I am so grateful for all the experiences I had until now and for the many more to come.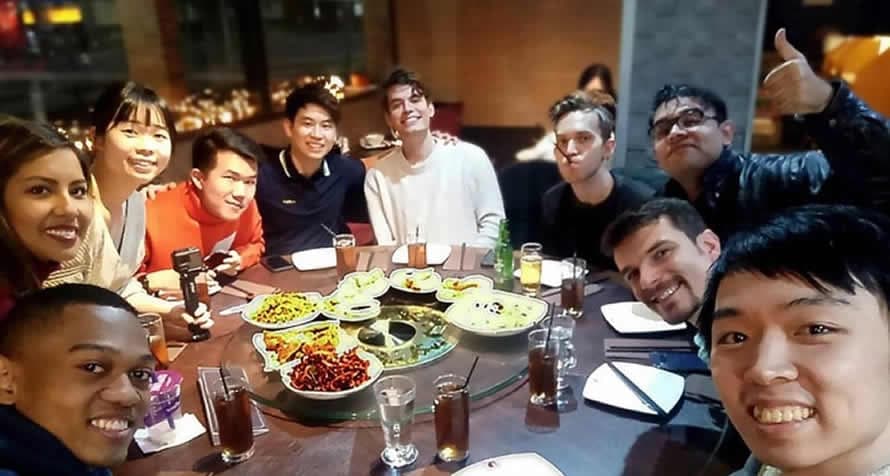 Now I will go back to my weekly readings for class. Even if I am happy to start my second (and last) semester, I am also sad because time flies, and a few months from now I will have to say goodbye to this amazing city and to incredible friends. I am going to do the Marketing Group Business Project and I already know it will be quite busy this semester, but I cannot wait to work on such an enriching project with my Marketing Colleagues.
Hope you liked this month's blog and do not hesitate to comment or ask questions below!