As an International Management (IM) undergraduate, we spend our third year of university abroad and mine in Melbourne, Australia was much more than I could have ever expected.
Despite going through the beginning of the COVID-19 pandemic whilst out there and locking down in Melbourne, it was truly the best year of my life and I hope to move back permanently in the near future.
Melbourne is a very cool city, dubbed the cultural hub of Australia with something for everyone in terms of art, music, sports and food. The coffee is the best I'll ever try and the street art that lines the city's laneways is really part of Melbourne's character; I even ended up studying a module purely about Street Art! General university life was similar to Manchester's but with more BBQs and less rain. Nearly all students have Friday's off, so we made the most of this by spending weekends away skiing, surfing and travelling around. It was also amazing to have the 3-month summer break over Christmas, where we got the chance to attend several music festivals and travelled further afield to Fiji and South-East Asia. I will forever recommend to anyone considering a year abroad that they should definitely do it!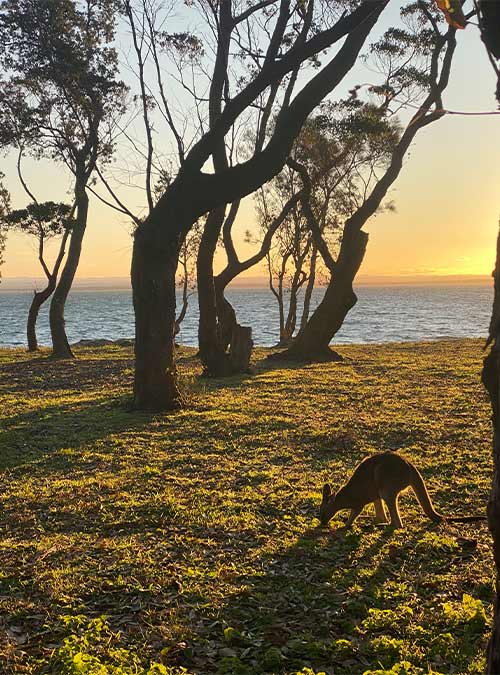 The IPS society (International Programmes Society) at AMBS played a huge role in my decision-making and ease in choosing my destination. IPS puts on a number of social events throughout the academic year for anyone on an international programme to network and meet other students from Manchester or universities abroad. I was a 'buddy' for IPS in my second year, where I met a few students from the University of Melbourne who then became friends before I moved out there for my third year. It was also a great opportunity to get a lot closer to my course mates, some of whom I now live with, and comparing to other courses we seem to be a pretty tight-knit group. I'm a buddy again this year and advise anyone considering a year abroad to join IPS - it's a brilliant way to meet people from all over the world and learn about their home countries.
I was always looking forward to returning to Manchester, despite having to leave Melbourne. The unrivalled student suburb of Fallowfield brought back a sense of nostalgia, and in spite of the pandemic, the atmosphere is very much the same in terms of Manchester's charming grunginess. University online is of course not the first preference, but at least this semester we are more prepared for it. It's also good practice for working in virtual teams and adapting to change, and by now I think it's fair to say most of us are well accustomed to using Zoom. AMBS is still open to study in, which is definitely a huge advantage for business school students as the building and its facilities are some of the best on campus. The flexibility to structure your own week is actually proving very useful, especially in final year when things are busier than ever. Overall, it's been a great start to a somewhat uncertain academic year and I'm excited for what's to come.