Time flies by quickly… It seems just a like a few days back that I was standing outside the Manchester airport for the first time on a "cold damp" September morning (I should have got a clue as to how my future mornings would be) waiting for my cab to go to my accommodation – my mind full of excitement, anxiety, fears but at the same time a dream about a great year ahead in this beautiful city. It's already been 5 months into my journey and to be honest it doesn't seem so. Semester 1 has finally come to an end.
Exam fever seemed to be the flavour for the past month. Packed libraries, learning commons, study rooms bustling with high "student traffic" were common sights. Be it essay submissions or exam preparation; each student had their task cut out for the entire month. I had to submit 2 essays and at the same time prepare for my two exams. Facing this exam stress after almost 5 years (I had last taken an exam in 2013 !!!) was no easy task for me – difficulty in memorising, loss of focus was among some of the barriers I had to overcome. But I was sure I was not alone – majority of the students were sailing in a similar boat. In the midst of all this stress, the one thing, which caught my attention, was the University's attempt to do its part in helping the students and providing the required support and guidance during this crucial phase of the year. The #ExamExtra initiative was indeed helpful and I feel it clearly achieved its objective of providing the 'extra' bit of support – be it the goody bags or refreshments or training sessions or just the arrangement of extra seating spaces within the library. Switching between reference books, online journals, study notes became the norm and thankfully, I managed to get back into the "academic study mode".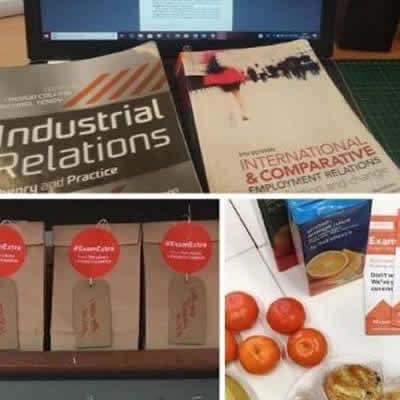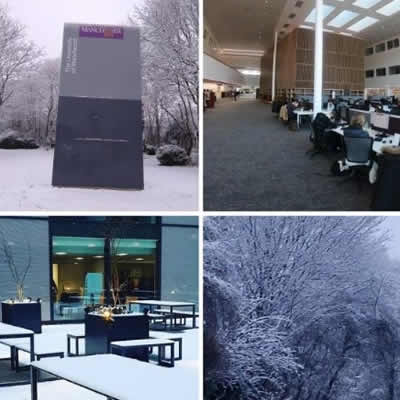 The exams went by smoothly (I hope the results don't prove me wrong). We had a short break of 4 days post our exams and the beginning of Semester 2. I utilised these days to completely relax after the exams – catching up on some good movies.
We have started Semester 2 in the swanky, new AMBS building. Characterised by spacious halls, corridors, various study zones, quite spaces and breakout spaces throughout the School, it makes for an apt place to both study and relax (and to boast about on social media – GUILTY!!!). Snow in Manchester just accentuated its beauty and we were fortunate enough to witness a "white winter morning" (my first !!!) on the onset of the new semester.
The lectures have started, and we are all back to the regular grind of seminars and presentations. The semester 2, by all means, is going to be more hectic, demanding but at the same time more exciting. Looking forward to yet another eventful semester in Manchester – continuing to live the dream that I had on that "cold damp" September morning.