It's April and by now a lot of us at AMBS have submitted all of our written assignments and have primarily exams to focus on.
We have patiently been waiting for the exam timetables to be released and now that they are we can set about making a plan on how to approach our preparation for them. If you can't commit to other activities you've been asked to help with then don't. These exams will have massive implications on your grade and no one will criticise you for opting to focus on them. From my experience, you will only be criticised for taking on activities and roles that you then can't commit to regardless of the reason. I however committed to a DELL workshop working with Year 9's this month. I was delighted to see the determination across the whole cohort as they worked in teams and participating in many activities. It provides some more good experience working with youngsters so was well worth attending the event and helping.
This month also provides many of us with a great opportunity at Alliance MBS to take advantage of the space available in the new building. Many students return home during April or go travelling for a while. Why not come and get an early head start during a period where Alliance MBS is silent with many rooms open and available for us to use? I did return home in late April but at the beginning of it, I focused on making the most of my time at Alliance MBS during this quiet period. It is worth noting as well a Sky TV series production turned up outside my University accommodation just a few days prior. I didn't manage to capture the name but it was interesting nevertheless.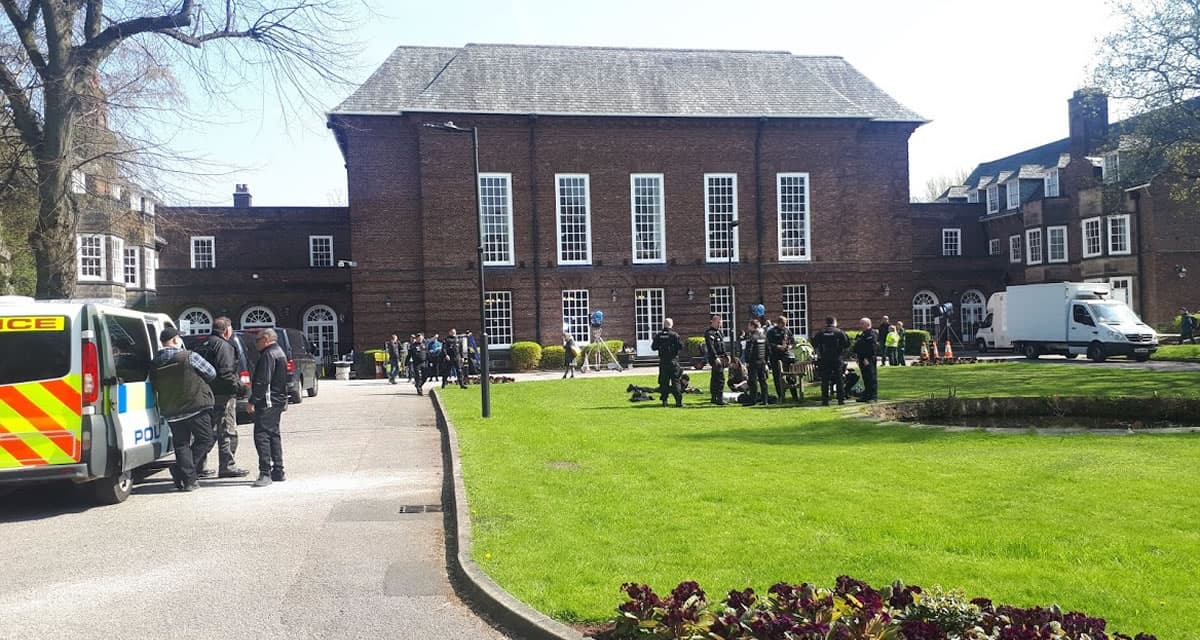 In April it's common for a lot of job interviews and grad scheme assessments to occur and I faced a lot of them this month. Striking a balance between them and exam preparation can be challenging especially with other commitments. However, the best way to manage it is to come up with a contingency plan in case things go wrong or off track. It's inevitable sometimes that we end up stuck or in a difficult scenario due to unforeseen circumstances. In my case my health and medical issues so it was vital to try to figure out and develop a contingency plan for the pending issue that would later arrive. One of my interviews was with a company called Elevate Education in Liverpool. I love presenting and working with youngsters so thought the role would be great for me in terms of a career path I would like. Still waiting to find out the result from that but the message here is that it's not too late to get that dream opportunity you seek be it a graduate scheme or internship.
April in Singapore 2018
Well, I'm sure many of you are excited about Avengers Endgame in cinemas this month. What a coincidence! At this time last year there was a craze around Avengers infinity war! Just like the queues outside cinemas for Avengers Endgame across Britain, there were many in Singapore just for Infinity War. Take a look at the pictures for yourself! It didn't help with some of the stars being here but still, we were all excited. Hard to believe how Endgame has gone above and beyond that of Infinity War but it has and from what I'm hearing is set to smash box office records. Goes to show that how impressive the franchise is.
Apart from the craze for Marvel movies, I did spend time away from the National University of Singapore and go travelling prior to the exams. The place in question was Kuching, Malaysia. A calm place full of challenges and adventures like Shiny Caves and Mount Santubong. Mount Santubong probably was one of the toughest trekking/climbing challenges I took on that month. Near a 1km climb in a short space of time! The views at the top were inspirational though and well worth the effort put in. Travel to Asia and you should challenge yourself like this to get the overwhelming feeling of achievement at the end of it all.