Before the Christmas holiday, a friend of mine and I went on a day trip to Dunham Park (a deer park!).
It was about 40 minutes drive from the city. It was a cold rainy day, but we braved the cold and took a brisk walk at the park anyway because I just want to see more of Greater Manchester. it was utterly exhilarating and refreshing. If you take a careful look at the left picture below, you can see many deer in the background. There are a lot of them in the park, but unfortunately, they're very shy and prefer their personal space than play with us 'normal people' ha-ha! Nonetheless, it was an amazing site to appreciate such beautiful creatures. I reckon there should be over 50 of them in the park! The picture on the right-hand side is the deer house.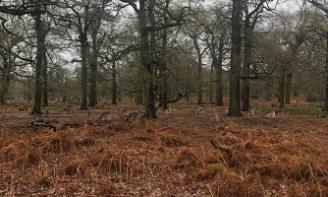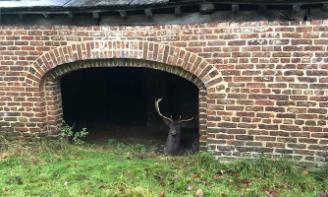 The deer park covers an area of 192.7 acre and is the only surviving medieval park in Trafford or the surrounding area. it is very muddy, so make sure to wear a pair of warm, waterproof boots before you visit! There are coffee shop, pizza stand, and other small shops in the park. You would definitely need a nice and warm coffee after a not-so-long walk in the park. You can see the Dunham Massey Hall, which was a military hospital during WWI, near in the entrance of the park. It is a Grade I listed building of England and is owned by the National Trust now (I do apologise that I did not take a picture of the Hall).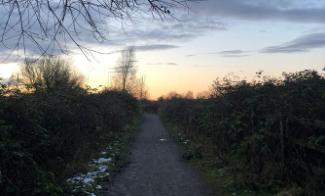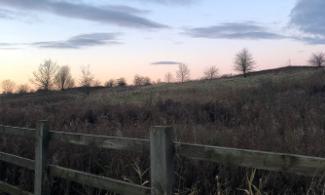 The other day I went to another green field (see the above pictures) just outside the city at Stretford. It's another muddy park, so once again, we sure to wear a pair of nice waterproof boots! This park is next to the River Mersey. It is a nice long walk and allows me peace of mind. I wish it could've snowed more so that the field and be covered by a white blanket. It would be beautiful and surreal (I mean I come from Taiwan, and snow only happens once every few years and only on the 3000 ft. high mountain!)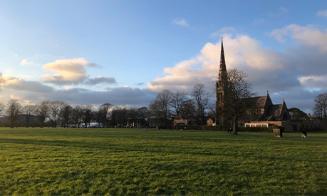 The weather was really nice for the first week of 2021. I believe it's a good sign for us! I was told that this winter is colder than the last. I feel very lucky to see the white Christmas in the first year of my journey in the UK. I love it. Even though I got three assignments to submit in the first week after the 2-week Christmas holidays and have been to my beloved Ali G literally every day, but I still cannot resist a nice walk at a park in the city of Manchester. Packing everything at 2 in the afternoon, I met up with a friend and headed to Platt Fields Park (see the pictures above). On the way to the park, you could see many middle-eastern, Indian, and African restaurants on the main road. My mouth was watering when I smell the curry and shawarma. I make a mental note that I will definitely try some of these restaurants sometimes!
Platt Fields Park is absolutely beautiful. It has a spacious green field which is perfect for an afternoon picnic when it's not too cold. The track in the park is wide and suitable for a run or even biking. Seeing people playing with dogs and children makes me feel warm inside. I just love to see people having a great time in such a wonderful day!