Within our Management degree, we are fortunate to be able to obtain industry experience. Therefore, as a final year student, I think it is important for me to talk about my time away from University.
First things first, the application process. Now, I want to address that I was lucky enough to gain my industrial placement after completing a gap year with the consulting company. Nevertheless, I still experienced the same process of interviews, presentations and an assessment centre that can seem so daunting, but once gaining that position, are incredibly rewarding.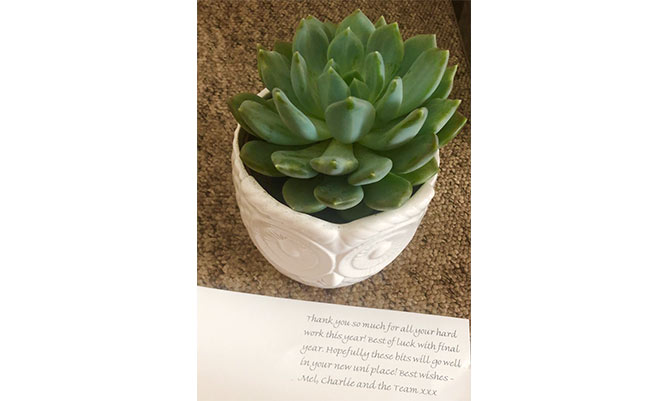 Flash forward to my industry placement, I was working on an exciting project for the full year. This is usually unlikely in consulting, but worked perfectly for me, as I could develop skills in my favoured business area. In my role, I was a project management analyst where I led RAID meetings, helped organise client-facing workshops and managed vital project deliverables, whilst also gaining an abundance of transferable skills for the business world.
Outside my role within my project, I was able to experience many eye-opening prospects that I know will be beneficial for my career. For example, within my first week, I had already experienced training with Apprentice finalist, Bianca Miller, who taught me so much about building my own personal brand. I also got to experience different workshops (and even breakfasts) with many leading women in the technology area of the company, emphasising the importance of equality at this firm, which I LOVED!
However, it is crucial to note that it wasn't all working and training. The company I worked for really prided itself in being one that offers a healthy work-life balance, which was a key selling point for me.
During my work placement, I was awarded social secretary for my interning group, allowing me to organise fun social events. This was the perfect time to relax and feel rewarded for our hard work, but also to talk about how we were finding our projects. These social events were pivotal in my placement year, as it offered me the chance to build helpful connections when I return, but also amazing friendships too.
Nonetheless, I must address the elephant in the room, COVID-19. Although I was only able to complete half my year in the office, I still managed to gain a good experience of skills from working at home. This was all down to my amazing team, who would hold daily Teams calls to motivate each other and were available to contact whenever I was in need (I even got a cute plant from my team as a leaving present).
So, I know this time is really worrying, but all I can say is if you believe an industrial placement is for you, please do apply. I say this because I have gained so much from my own experience: friends, skills, and a career path that I am excited to start. So, please do a little research and see if it is for you!