My Bachelor's degree was in Business Administration with Finance as my major. The predisposition to commerce and business was an inherited one as my family runs a business and discussions surrounding the same were part of my life.
The economic landscape and the positioning of every business model however small or big were topics that grew imprinted in my mind. I was at ease at the undergraduate level, having entered a field of study that helped me understand the forces of commerce, performance and productivity, capacities and growth parameters. After my degree I joined my family's Construction Steel manufacturing business, moving into the sales and operations department. In no time I realised that I was lacking professional experience and theoretical knowledge to shoulder the next generation of business. I decided to analyse my business for a year and then move into a course that would give me real-world solutions from a consultants perspective.
My friends and family bid me farewell from Bangalore (India) for Manchester via London for a few reasons. Firstly, they gave me an allowance of about 92kgs. Secondly, I assumed the VISA clearance would be easier as it was a home country airline. But can there ever be a smooth travel journey? I was stopped with 2 kgs of fresh homemade chilly powder in hand luggage at the airport. A silly mistake isn't it? I know I could have just put it in the check-in, but I never realised it could be a problem. Heading on, I got a good leg space seat in the flight, followed by a 5-hour layover at London airport.
It was around 20:00 pm when I landed at Manchester jetlagged to realise they had not put any of my three check-in bags on the London to Manchester flight. I was horrified and cold, but being positive helps. I signed up the forms at the help desk and took the bus to my accommodation, IQ Wilmslow Park. The check-in was super quick. Luckily I had my rucksack, the blessings of my Mother and Gods support. I had some essential food items and bedsheets which helped me get past the cold night. The next day I bought a few things from the stores downstairs, as my bags would not come for 4 days. I had to self-quarantine for 10 days, and do two tests to get out of quarantine, but I was allowed to go out for essentials with safety measures.
Manchester is the most student-friendly city I have lived in. I will prove it to you. The transportation is very economical with stagecoach buses running day and night. The whole city has a lot of places, like bars and discos, theatres, shopping centres, cafes and a diverse range of restaurants. I have not come across a weekend where I have not gone out to a place outside or a house party. I have made quite a lot of friends from different parts of the world. We have two girls from Colombia Latin America and they took us to a salsa party in the basement area of Revolution Cuba on a Wednesday evening, we danced until 2 am, and took a bus back home.
I am a part of the International Society which organises one-day weekend trips. My first one with them was a trip to Keswick, Lake District. The weather was pleasant and we had a wonderful time walking around the lake for about 2 miles and coming back. My next trip with the society is to York. I am a part of the Hindu society as well. There are Dandiya nights, Bollywood nights and Diwali celebrations as well. I celebrated Diwali at a friend's place and we organized a pot luck. Each of us cooked some dish from the Indian cuisine and had a get-together. It felt like home. I am travelling to London with the ISKON foundation to their 300-acre estate where 300 odd young people would meet recite the name of Lord Krishna, do vegan cooking and experience cow love.
I visited Brathay Lake District with my class (MSc Business Analytics and Strategic Management). I should say it was the highlight of my stay so far in Manchester. We went canoeing, we did team building activities, high rise rope activities. I personally learnt a lot from this experience on how to operate in a team better and I am wholeheartedly thankful to the University of Manchester for organizing this.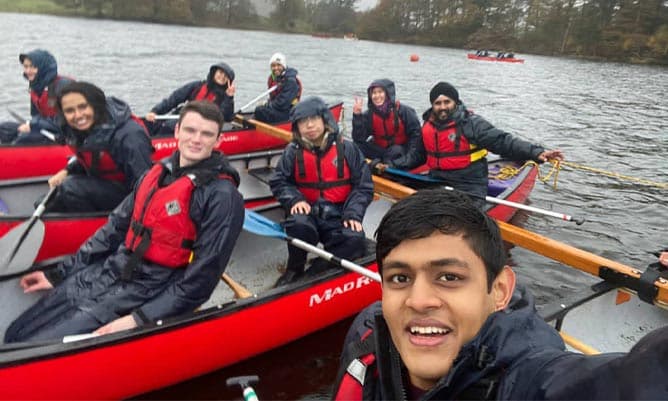 I will talk more about my studies at AMBS in the next blog, stay tuned!