Happy New Year!
2020 was definitely a crazy year that didn't go the way any of us planned and I know I am ready to start fresh in 2021. For the time being I am studying from home in Florida while classes are conducted online but making efforts to befriend other UoM students through different societies.
Around the holiday season everyone has different traditions, and this month I'm going to share my family's tradition. Although I was born in the USA, I am a Haitian American. Both of my parents immigrated to the United States in the 1980s to attend college here in that States; that said, I was raised in a Haitian household here in America. Growing up I learned English and Haitian Creole simultaneously, would frequently visit family in Haiti, and attended a Haitian church in my area where services were conducted entirely in Creole. I have always felt a close tie to the country where the majority of my family was born and want to preserve the traditions and practices of this small island nation that shaped me into who I am today.
Not many know this, but Haiti was the first black-led and Caribbean state to earn its freedom during the era of the slave trade and colonization in the West Indies. Haiti gained its independence from France in 1804 after more than a decade of battles. Haitian Independence Day, or Jour de l'Indpéndance, is celebrated on January 1, and on this day each year, we eat a soup called soup joumou, which translates to "squash soup" in English. This soup is squash based and is made with a variety of meat and vegetables. My family's soup consists of the squash base, oxtail or turkey, celery, carrots, onion, cilantro, potato, and macaroni.
During the time of slavery in Haiti, soup joumou was a food that slaves would make for their masters but were not allowed to eat themselves. If slaves were caught eating this soup, they would be met with harsh punishment and sometimes even killed. When the revolution was complete and the Haitians successfully drove the French out of the country, the newly independent people made this soup that they previously weren't allowed to eat to symbolize their newfound freedom. Centuries later, Haitians all over the world begin cooking this soup on New Year's Eve so that it is ready to eat right at midnight on January 1st. We then eat this soup all day to celebrate freedom from our oppressors.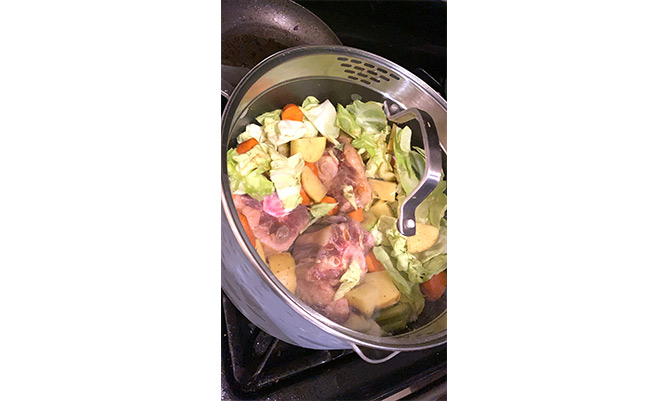 The first time I learned how to make the soup I was 14 years old, and every year since I help my mom and grandma prepare it in time for our celebrations. New Years is a particularly special holiday to Haitians that is meant to be spent with friends and family, however, due to COVID-19, I wasn't able to gather and celebrate with extended family the way I usually would. In spite of this fact, 2021's New Year's was one of my favourites I've experienced. I plan to pass down this tradition through the generations so that my family will always remember where we came from and how far we have come since that first Independence Day over 200 years ago.