It was the month of February when I accepted the offer from the University of Manchester.
I was so happy for the new learning and experiences abroad as it was the first time I was flying out of India. Later in a month suddenly, things have changed. India went into Lockdown for 21 days and everyone was pretty sure that it is going to take a few months. Optimistically I believed things will be normal by the time I start my study. Months went on still there was fear of the unknown, it was time for me to decide whether to take up the study or defer it. On one side of the coin, I had a good-paying job, working from home another side a new phase of life in a new country. I decided to go ahead, learn what I was interested in for a long time.
It was not hard to convince my parents as they were very supportive of my decision. There were minor issues in the process of the loan, medical tests, visa applications, travel, etc. due to COVID-19 but all were solved with time. Attending webinars about the process conducted by the University of Manchester was helpful to know the updates and new restrictions along with government guidelines. As part of the air bubble, I had taken a British Airways flight from Hyderabad with a stopover in London. They had provided all the necessary safety measures and it was a great experience.
I arrived in Manchester on October 2nd and according to the government guidelines had to quarantine till 16th. I stay at a private accommodation with few other friends from Business School. We were able to order our groceries from ASDA which usually delivers in a day or two according to the demand. We used to cook food, play games indoors and it helped us to get to know each other. The induction program which included a lot of webinars was helpful to know more about our course work, city, career services, and access to help if needed.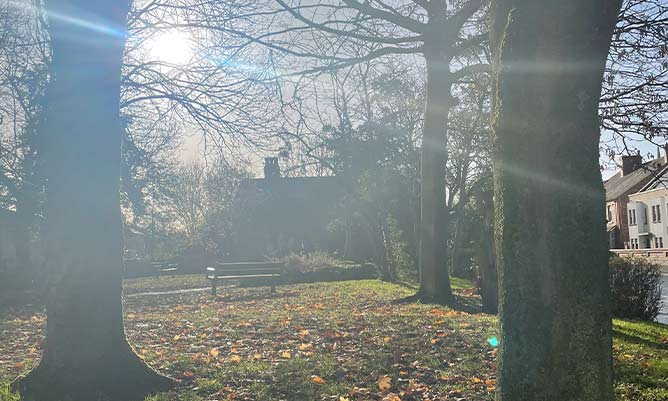 The classes officially started on 26th October, with four classes (2hrs each) per week along with seminars (1hr each) it was really a challenging task for me to get back to study mode. It has been a great experience so far as the professors were helpful in connecting to us either through emails or zoom. The libraries are open, and students can book personal spaces to study. We did have few meetups before the lockdown in England. Online learning is not the best way of learning but again during these covid-19 situations, it is the safest considering everyone's health. Health being the priority it is important to take care of physical and mental health. Speaking to family, friends, going for walk, making new friends, and finding ways to happiness does really help to be the best of ourselves.