With the recent announcement of the third lockdown, I have decided to focus on silver linings rather than face the January blues of essay writing and revision.
In my last two articles, I focused heavily on top tips, but this time around I have decided to reflect on the happy moments I was fortunate enough to have over the festive period.
Before travelling home for Christmas, I realised that I had worked so overwhelmingly hard this semester that I deserved a rest! After the 18th of December, I decided I had earned time off before commencing my essay writing.
Getting Out and About
In my time off, I set myself a goal of getting out and exploring, especially places I hadn't yet visited in my county. One of the best places was Shoreham, a quaint little village not far from home. With large hills, beautiful horses, and plenty of dogs (sensing a theme here), I was very content. After climbing what felt like Mount Kilimanjaro with my asthma, the views near Shoreham Cross really were magnificent and it reminded me that such beautiful places are right on your doorstep if you look hard enough.
Nonetheless, climbing that hill wasn't the only bit of exercise I managed to enjoy (shock horror!!). I also picked up running, which is most definitely not like me. I began 'Couch to 5K' whilst still in Manchester and decided to keep it up back home. As much as cardio has never been my thing, the skill-building and fresh air has had such a positive impact on my mindset. With time to reflect and a focused goal, I believe I am now unstoppable. Bring on Week 6!
Exploring London
Along with the time I spent outside in the country, one of my favourite days back at home was getting the chance to explore London once again. On my placement year, I was fortunate enough to work in Victoria, London, but only ever experienced the commuter side. Along with commuting, there was the occasional meal or visit to a cocktail bar, but never really experiencing London for what it was.
However, due to COVID-19 my time spent in London consisted of exploring the sites, walking along Embankment, visiting Christmas markets, and even completing the Tower Bridge tour. At many points in the day, I found myself in awe of the buildings and appreciating the architecture, which I had never done before. I guess it made me realise how much we can take for granted when we are not looking.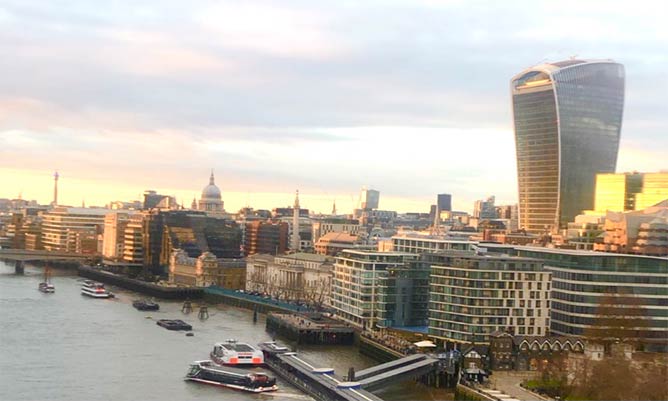 Festive Reflections
So, if there is anything I have taken away from time at home, it is the importance of getting outside and exploring. For such a long time I never appreciated the places I could walk to, but the happiest experiences I have made are when I have been out adventuring. Hopefully, one day soon we will be able to do this once again but for now, stay safe and inside!