I believe everyone in Manchester has seen the impressive first snow in November, which came much earlier than last year. Heavy snow promises a good harvest in spring next year, and also indicates the arrival of winter! To enjoy "the best time of the year" there are plenty of activities and places in Manchester you can attend.
Without a doubt, the Christmas markets are on top of the list. There are more than 300 market stalls, which can be found on streets throughout the city, especially the city centre. They are small wooden shops selling everything from food, drink, toys, and clothes. The mulled wine and sausages are recommended, do go visit with ID if you look young, and visit with an empty stomach if you prefer to move without others' help. They are particularly attractive to me because most of the products are handmade, handmade pieces always warm me. And the atmosphere of the market is amazingly cheerful, you can talk with strangers like chatting with old friends.
Manchester Art Gallery is indeed worthy to visit at all seasons, but winter makes it more charming. Not only because there are pieces of art exhibited especially during winter, but also the view of the building from outside and that of the building from inside are exclusively beautiful in winter. There are several places in the gallery where a whole side of the wall of the building is made of glass. I could spend a whole afternoon in front of that wall watching the snowflakes falling. The traffic is heavy, people are rushing outside of the building; time is slow, life is cosy inside of the glass. It relaxes and inspires me, the minus is sometimes a plus.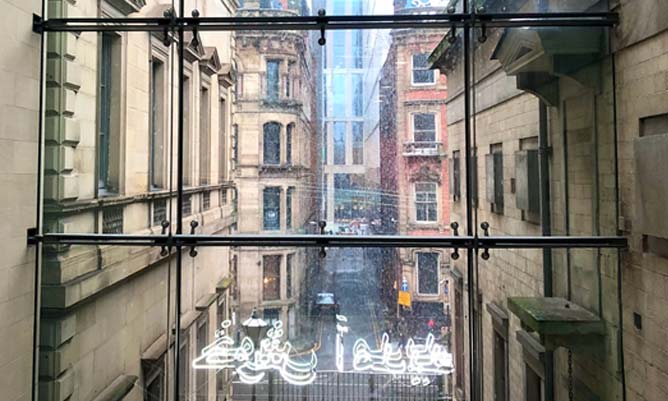 The fog lingers around the buildings on the street, making the white like crystal, the black like obsidian. The whole city seems dangerous, mysterious and graceful with the refraction, reflection and scattering of light. People on the street have snow spots on their hair and shoulders, each of their breaths contribute to another cloud of mist in the air. The purple city, Manchester, is white for this month.
"Christmas is coming to town."