An important part of my course BSc International Business, Finance and Economics with Industrial Experience is that it includes a placement year where for a year in between my second and third year, I can work for an organisation in a role relevant to my studies. This enables me to gain career experience before I graduate and to develop many skills by being in the workplace. Over 90% of the students on my course who complete a placement year achieve a 1st Class Degree upon their return to university due to the skills they have gained.
The support I have had from Alliance Manchester Business School and The University of Manchester in the placement application process has made a big difference. The University of Manchester has developed its own career portal called 'CareerConnect' which lists all the available placement opportunities and I receive daily emails of placements relevant to my interests. I also attended a mock virtual assessment centre hosted by The University of Manchester where the University used qualified assessors from multinational organisations. This experience was very beneficial as assessment centres are an important part of the application process for a role and the feedback I received here really helped.
I have also received a lot of support from AMBS. Students have the opportunity to attend a 1:1 placement clinic where Jannine Thomas, a career consultant, will review your CV and Cover Letters. We have a dedicated Placement Officer, Svetlana Gannon, to help students with any queries about placement applications. Finally, my academic advisor, Elaine Clark, is always available to provide support.
On a personal note, I have been offered to complete my placement year at Deloitte where I will be in Deloitte's 'Enterprise, Technology & Performance Consulting' division. This will be a fantastic experience working in a world-class organisation whilst having the opportunity to live in London. I will be working with professionals at the top of their respective fields and I will be given true responsibility to support on Deloitte's client projects. I can't wait!
AMBS students have the opportunity to complete placements at the world's best organisations. Below is a picture showing where students from AMBS are currently completing their placements - these include KPMG, PwC, Amazon, Bank of England and many more top firms.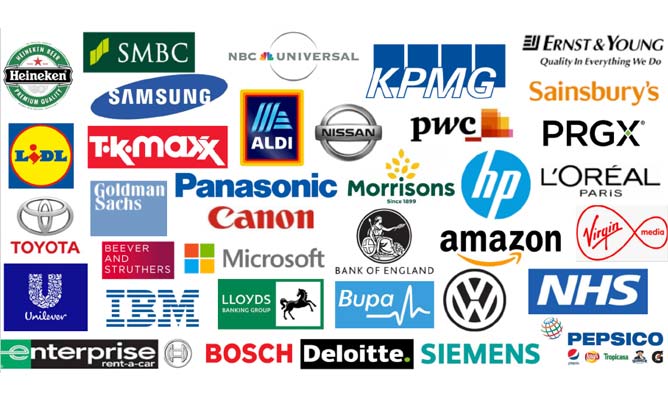 I hope you enjoyed this insight into the career opportunities and support I have received whilst at AMBS. Please feel free to contact me on LinkedIn for any questions!