As an international student, sometimes I feel far away from home. Homesickness is a natural phenomenon that is very likely to happen and there is nothing wrong about it. Fortunately, there are many ways to keep in touch with your family and I am writing this blog to tell my experience about it.
I would like to start with the phone plan I use and how much I pay. When I arrived in Manchester, it was very easy to get my hands on a sim card. There are companies such as Giffgaff that will literally give away sim cards in the freshers fair, or even post it to your mailbox if you live in a student residence. I got mine at the International Society from a big pile of sim cards they had there for new students. This company (and many others) offer plans that start at 5 pounds per month. I am currently paying £7.50 for a plan that has unlimited calls and texts and 2GB of data. My recommendation would be not to pay a lot of money for your monthly data plan because most of the time you will have Wi-Fi coverage (the University´s network is very reliable, fast and it's available in all the buildings around campus). The plan I have will even work in the EU, so there is no need to pay for extra for roaming. It's just like calling from the UK!
So, how do I call my family? Most of the times I will do a WhatsApp voice call. If the other person you are calling has a strong internet reception, the call will be very smooth. I try to call every other week to catch up and it is very nice to be able to talk to them that easily. I guess we are fortunate to have this and so many other options available nowadays (Skype, Facetime, Google hangouts, etc). I have also created a group chat with more people (close friends, extended family) to share pictures of what I have been doing in Manchester. It's a convenient way to privately share photos of your trips if you don't want to post on Facebook every weekend!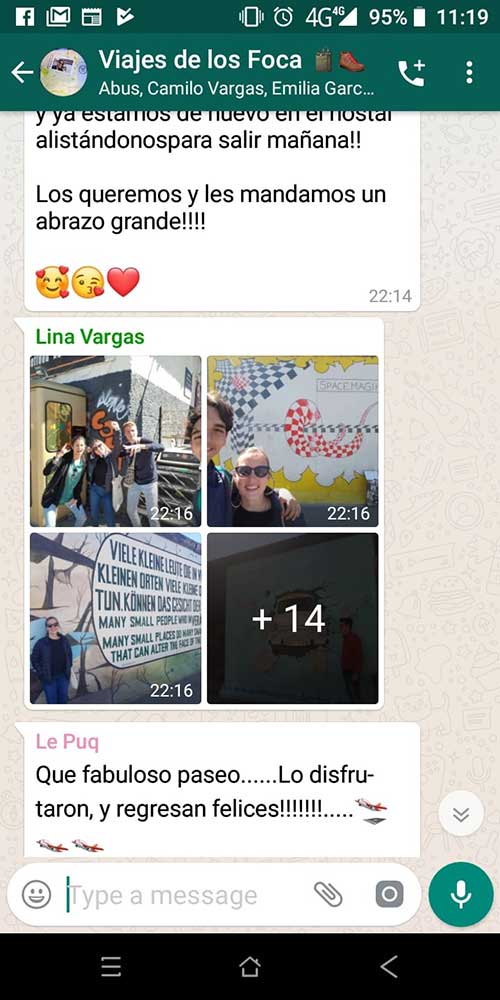 There will come times when the WhatsApp call will not suffice. For example, if I want to talk to my grandma (technologically impaired), I need to call her home number. Also, I have had to call my previous bank in Colombia to cancel some of its services. In these cases, I would need to do an international call. Initially, I thought that these calls were very expensive, however, I get an acceptable rate from my phone operator to call back home (4p / minute, which translates into 1 pound for a 15-minute call).
If you are thinking about coming to the UK and study your master's here, I hope this blog will help you understand that keeping in touch is very easy. Whenever you feel lonely, you can talk to your close ones very easily and without breaking your wallet.