It was not the first time I visited Manchester but arriving at a city knowing that you will live there for a year or more has a different impact on your thoughts and how you see everything.
The last time I visited Manchester, coming from a rather smaller city called Leicester, I saw Manchester as a massive vibrant city with so many things to do and I had so little time to see everything. Now I had more than a year to visit and see as much as I wanted. However, there was a little problem; lockdown measures were back on due to the Covid pandemic and not everything was open and alive as it was back in 2018.
This is one of the major challenges I thought were going to make my experience very different. I arrived at my accommodation, unpacked all my stuff, and lied on my bed for a bit. What is the point of being here if there isn't anything to do? I thought about how last time I came here I went to a night out with my friends to a Disco/ Bar called La Revolución de Cuba, a museum called People's History Museum and went shopping in Arndale Shopping centre. Now, most of these places were closed or partially closed with limited capability. It is normal to have these kinds of thoughts since things have definitely changed due to the current crisis. However, this does not mean it is impossible to enjoy Manchester and the university experience under the new normality. It only requires a change of approach, adaptability is key.
I put my trainers on and went out for a walk to take some nice pictures of the city that will host my stay for more than a year. I walked past the main campus of the University of Manchester and I took a closer look at the beautiful gothic architecture. 25 Nobel Laureates might have stood at this exact same position, admiring the architecture of the building. I felt a wind of inspiration at that moment. I kept walking up Oxford Road and saw the AMBS building was open, so I went in to explore it a bit. I went up to the top floor to see the facilities and find any perfect spot to admire the city view, when I found a little sticker posted onto a body-sized window saying "Take notice of what's beautiful around you" which is exactly what I was trying to do. I felt finding these little surprises a sort of encouragement, like if this city was telling me to "keep calm and carry on".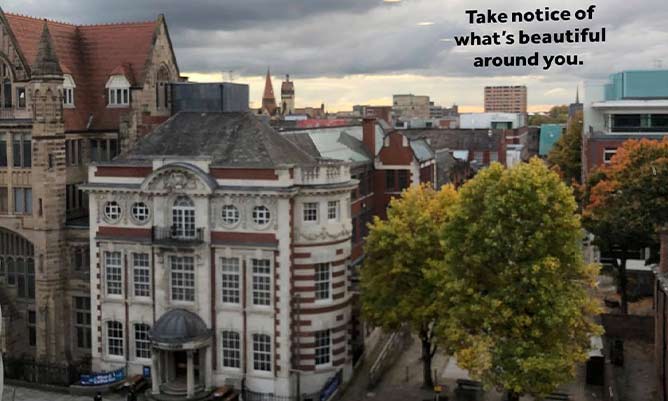 My final stop in this walk was the city centre, I heard some music coming from blocs ahead, so I followed it. I arrived at Piccadilly Gardens and saw some performers playing some Caribbean music and lifting the spirits of people around them. I could see people looking at the performers, smiling behind their facemasks and clapping at the rhythm of the music. A picture I forgot to capture but that will stay in my memory.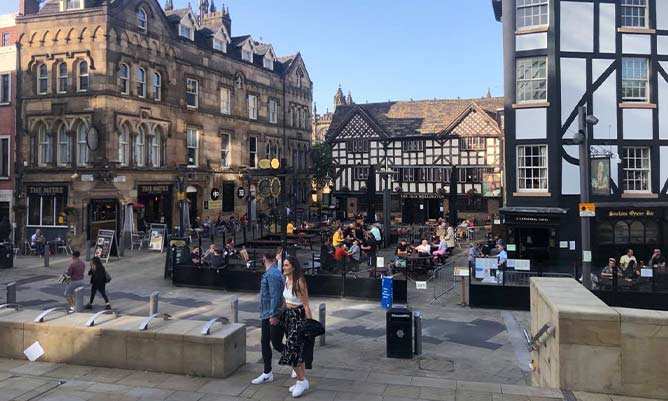 As much as I was trying to keep positive, other people were also trying and even trying to spread their positiveness to others. Even though I just came to Manchester recently, these experiences already made me feel part of a community. A community where we are all aware of how different things are now, but where we are all trying our best to keep smiling and making others smile too.