We recently caught up with Yoanita Simanjuntak, who completed the MSc Innovation Management and Entrepreneurship degree course in 2017, to find out about her experience at Alliance MBS and what she's been doing since graduation.
Why did you choose to study this master's course at Alliance MBS?
"I am the happiest when I can deliver work that brings a positive impact in people's lives as well as the planet, and I've always been fascinated with the wonderful innovations that can help us achieve that, so I focused my search for a master's course only on the fields of innovation management or social innovation.

"Following my research, I decided to apply to Alliance MBS as I learned from the University website that they highly value collaboration - which with years of work experience I find is most important in creating good work. Very few societal challenges such as climate actions, to finding a vaccine for COVID-19, can be resolved by single-disciplinary work. Collaboration is not merely a necessity; it is a way of success. I learned that Alliance MBS in particular has a venerable tradition in innovation scholarships, as well as in engineering, physics, and medicine - showing that they value collaborative cross-discipline enterprise.

"In addition to that, Manchester is home to an extensive number of innovations that changed the world! From the birth of the very first industrial revolution, the invention of the world's first computer, to the discovery of graphene - the world's first 2D material. And more excitingly, 2 out of those 3 things saw the light of day from the very labs of The University of Manchester!"
What were you doing before your MSc?
"I started my career joining a management trainee program in Indonesia's largest state-owned bank (3,000 branches). There I managed the national innovation framework, before focusing on incubating new business models for retail banking. It was a challenge to innovate in such a prudent, and at times, rigid industry. However, I managed to lead the development of the bank's first online application for credit cards, with the added innovation of social media scoring. This cut the process from initially 31 days to 3 days, while still maintaining compliance with our government regulations.
"This experience led to my interest in studying innovation management, so I could hone the skills required to bring innovative and effective solutions to issues I care about the most in my country, such as promoting digital inclusion, as well as environmental sustainability."
What were the top 3 highlights of your programme?
"I studied MSc of Innovation Management and Entrepreneurship (IME) course and I loved it! I especially enjoyed the Financial Appraisal and Investment Economics unit, where our team received a distinction for our financial appraisal of the pretend company we were assigned to. That was where we were first introduced to the Monte Carlo simulation, and how the shared struggles in understanding it have brought a group of international students so much closer!
"Secondly, different to the undergraduate curriculum in my home country, which mainly focuses on theories, the IME programme used practical approaches in understanding the materials. Several optional units involved on-the-field experiences, while in-class courses delivered lessons based on real business cases from prominent companies, or cases that changed the game in the innovation space. This helped train the skills needed to apply theoretical knowledge to actual implementation in my professional journey.
"Lastly, the network of brilliant individuals that share the same passion in innovation management. The friendships formed during the course have also exposed me to greater diversity than I would have experienced if I stayed in my home country, as the UK is truly the melting pot of different nationalities! The bond between former course mates continues to live today, despite us being all over the globe. We still make time to help each other's careers by sharing insights, lessons, or simply sharing interesting articles that we believe the others could benefit from. I still talk to them when preparing talking points for any speaking engagements, as their global perspective could help enrich the insights."
What have you been doing since graduation?
"I joined Gojek, Indonesia's first decacorn startup and South East Asia's largest SuperApp. Here, I led the establishment of Gojek's startup accelerator arm, Gojek Xcelerate, which aimed to identify and support the most promising APAC startups and provide them access to the network of mentors, Venture Capitals and potential investors. In designing the accelerator, I revisited notes from the IME course, and referred to a lot of books that my professors assigned us to read during the course."
How has your time at Alliance Manchester Business School helped you in your current role?
"The IME degree has helped me transition to a new field of industry - from banking to tech. But my AMBS experience has helped me progress my career in more ways than one. The biggest change was the growth in my mindset, and how it increased my confidence to pursue projects I am most passionate about.
"This resulted in a product innovation I had the privilege to lead the development of; GoGreener Carbon Offset, an in-app feature that enables users to calculate their carbon footprint and offset them by planting a number of trees needed to absorb the emissions. Pursuing the creation of the company's first environmental product comes with its challenges, but the IME program includes units such as Case Studies in Technology Strategy and Innovation Management, as well as High Technology Entrepreneurship, have taught me the importance of being data-driven and to continuously conduct iterations to find the most effective solutions, which honed the problem-solving muscles needed to develop this world's first in business-to-customer (B2C) carbon offsetting in the ride-hailing industry."
What advice would you give to those considering studying at Alliance Manchester Business School?
"If you believe in the value of collaboration, AMBS is your place. The very location of the University forms the triangle that connects the private, academia, and public sectors. In addition to your studies, you can harness new perspectives on how multiple sectors interact. This will help you develop Systems Thinking - which is an understanding of the system of relationships in which business is embedded.
"I would also advise you to seek a better understanding of what you want from the experience. This is probably among the first things you need to do. Completing a master's degree in such a reputable university is hard work: it requires hours of reading per week, and incessantly writing essays. But if you want to experience more, you should start searching for internships or enrol in activities as soon as your year starts. The University of Manchester is one of the most popular choices for international students, and the early bird gets the worm! And if focusing on studying is what you want, that's also fine. Just make sure you know your personal intent in pursuing a master's degree, so you can muster all the necessary experiences to achieve your goals and have a fulfilling postgraduate experience.

"Lastly, if you really want to pursue a master's from AMBS but may have financial constraints, you can apply for the University's extensive range of scholarships, or apply for Chevening - the UK Government's global scholarship program. If there's a will, there's a way!"
Anything else you would like to share?
"I have sat down with Melinda Gates and female Gojek drivers, to talk about how technology has enabled them to access new opportunities to fight inequality and lift themselves up - all from the mobile phones in the palm of their own hands! While listening to the heartwarming and inspiring stories shared by the drivers, I have witnessed - and also cried with the one and only Melinda Gates! I am looking forward to what the future brings that could possibly top that!"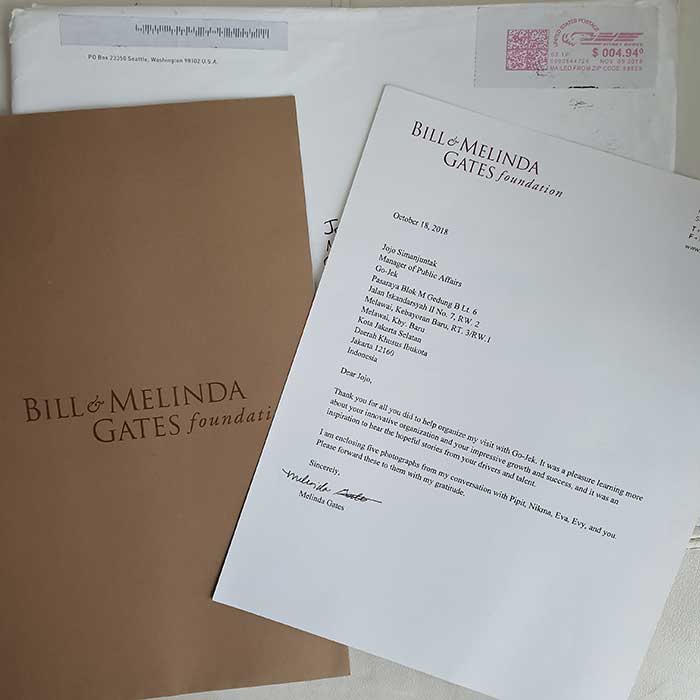 Yoanita's letter from Melinda Gates