Since a lot of places have finally been able to open up under the Tier 3 restrictions, I thought to talk about my favourite places you can visit as a newbie or even a seasoned Mancunian.
These places have a lot of family-run and independent stores to support if you're looking to do some Christmas shopping or even to treat yourself..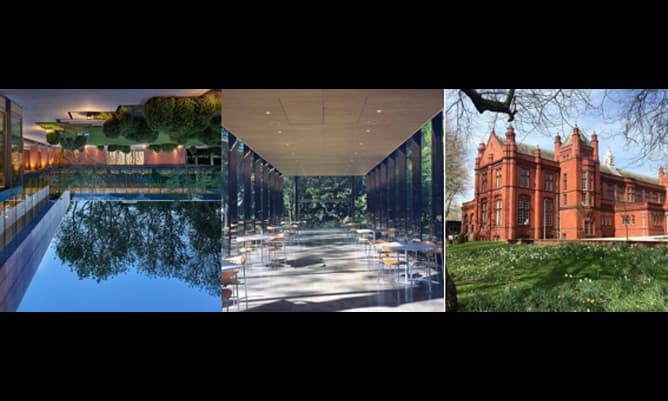 Whitworth Park: Whitworth Art Gallery and Café
The closest activity to do close to campus is to visit Whitworth park where there are quite a few art installations outside and inside the Art Gallery. As cliché, as it is, being able to walk in a little bit of nature and art in the middle of a city really, helps boost your mood! Sadly, the café and art gallery are closed until January, but once they reopen, you need to visit their glass café. The views, homemade foods and cosy drinks make it a place worth waiting for.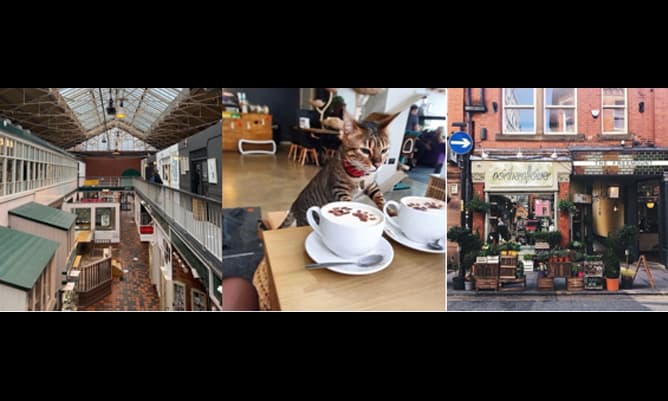 Manchester Crafts and Design Centre, Northern Flower Shop & Cat Café
Closer to Central Manchester is the coveted Northern Quarter – a hub of arts, local restaurants and independent stores, but for today I want to focus on 3 places.
The Crafts Centre has studio spaces for creatives to work on, commission and sell jewellery, ceramics and arts and more, which is perfect for anyone looking for a more unique Christmas present or just to appreciate some local artisanal art.
The cat café has been a city-favourite for people to peer into their glass windows and look at several cats lazing about or being chaotic. Although they are closed under Tier 3, I wanted to put them in here as their cats are friendly and you're able to relax with unlimited drinks.
Finally in NQ, Northern Flower is a perfect chance for you to lighten up your living space with a beautiful bouquet or cute cactuses.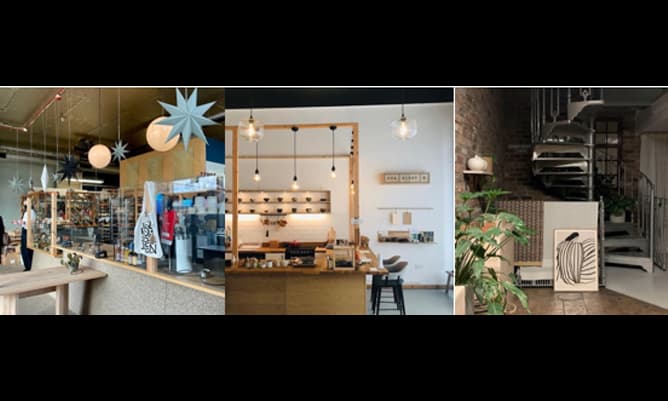 Ancoats: Pollen Bakery, Cha-ology, Form Lifestyle Store.
My all-time favourite place in Manchester – Ancoats, voted one of the best neighbourhoods in the UK. The Victorian buildings have been well-maintained and now has a lot of unique stores including my favourite café, Pollen Bakery. Their specialisation in pastries and sourdough (and their cute dog mascot, Maru) has lead them to consistently sell out every weekend, so I recommend visiting on a weekday to try their drinks, meals and pastries.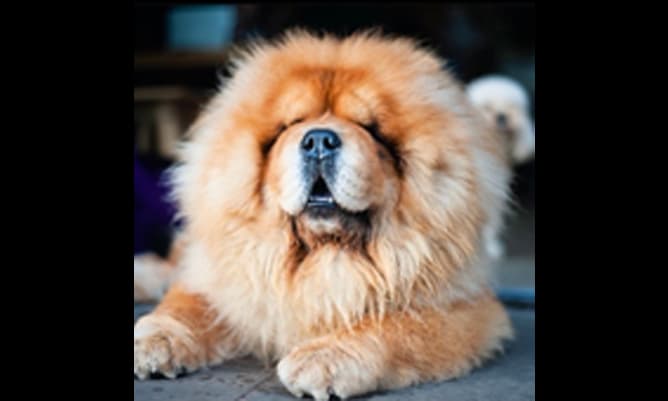 Another personal favourite is the unique Japanese Teahouse, Cha-ology, which specialises in tea ceremony and high-quality teas! If you're after some alone time to do some healing and to step back from the hustle and bustle of city life, this is perfect for you. Every time I visit here, I am greeted with a calming environment and almost feel like I'm transported in another world.
Finally, a personal shoutout goes towards one of the most unique homeware stores in Ancoats: Form Lifestyle! The interior of their store and the distinctiveness of their products has made this a favourite place for me to visit.
That's all for today's blog post! I've included links to everything in the text and I hope you get to experience the magic and thrill of magic as I have.
If you've enjoyed this blog, I covered more places you can visit over in some of my vlogs here!