The Future of Finance: Digital Transformation and Open Finance
If you are a business leader looking to strengthen your understanding of fintech to build innovative strategies and solutions that address your business challenges, then this programme is for you.
It's never been a more exciting time to join the fintech revolution. By disrupting conventional models and generating new revenue streams, financial technologies are increasingly creating unparalleled opportunities for many organisations looking to drive digital innovation and transform their financial services.
The finance landscape has been subject to constant disruption caused by digital transformation, so it's more important than ever that finance professionals possess the knowledge and skills to embrace fast-moving technologies, regulations and innovations that are shaping the movement.
£1,480

7 weeks, 4-6 hours per week

22 May 2023

Online

Online
Key information
Over the duration of this online course, you will analyse the latest trends and developments within the fintech industry, discovering how to implement aspects into your own organisation. You will also consider the effects of regulations, and evaluate approaches to ecosystems, monetisation and governance.
You will also learn to practically apply technologies such as blockchain, understand the role and functionalities of payment systems and infrastructure, and develop a digital transformation framework.
The course topics include:
Identifying the competitive impact of fintech within the industry
Examining the effects of financial regulations on the use of technology and business models in finance
Evaluating the economics and strategy of platform business models in banking
Understanding the strategic role of data in the financial sector
Exploring the evolving nature of money and how this effects payment innovation
Applying economic and strategic thinking for fintech innovation to design a digital finance solution for your business
Understanding the pillars of digital transformation within financial services
During this 7-week online course, you'll learn through a combination of discussions, polls, interactive activities, try-it exercises, and a final project/capstone assignment at the end of the course.
This course has been built with busy business professionals in mind, so the modules will be available to complete when it suits you best.
Whether you choose to fit your learning in before work, on your lunch break, or on your commute, this course has the flexibility to fit around your work and life schedule.
Identify digital ecosystems and master the data economy in finance
Expand your knowledge of digital money, cryptocurrencies, and CBDCs
Learn how to develop fintech strategies to digitally transform your services
Become a member of the AMBS Executive Education Network and benefit from networking opportunities and bespoke events alongside other industry experts
How your organisation benefits
Make recommendations on the impact of regulation on your organisation
Strengthen your relationship with technical teams, clients and partners by understanding the terminology needed to communicate effectively
Build on your understanding of how to utilise fintech to achieve business objectives
This course would suit mid-level to senior finance leaders wanting to explore the opportunities of adopting fintech within their organisation.
A background and basic knowledge of finance and technology would be advantageous, but not compulsory. Topics covered on this programme would be particularly useful for professionals from fintech start-ups, banking, financial institutions and fintech advisory firms.
Named within the global top 50 fintech influencers, course lead Professor Markos Zachariadis, Professor in Financial Technology and Information Systems is world-renowned for his extensive research within the fin-tech sector.
Markos is a member of the World Economic Forum's Global Future Council on Responsive Financial Systems and a Chief Fintech Advisor to the President of the Hellenic Competition Commission, Greece's competition and markets authority.
Upon successful completion of the course, participants will be awarded a Manchester Professional Certificate in The Future of Finance.
You will also receive a digital Manchester Professional Certificate in The Future of Finance from Accredible, in the form of an online certificate and badge which can be displayed on LinkedIn profiles and represents completion and participation in the course.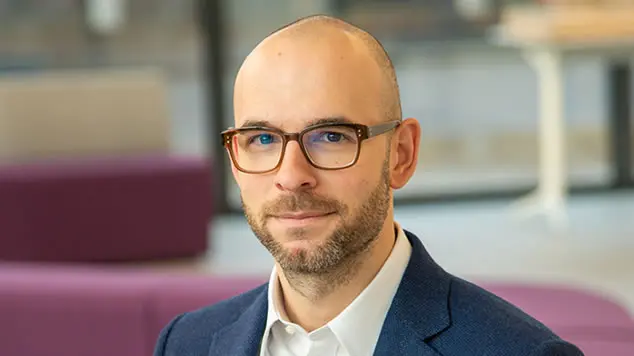 Speak to a team member
If you have any questions or would like to chat to us about this programme and how it could benefit you, please get in touch with the programme advisor.