Academics from across Alliance Manchester Business School took part in the recent Manchester Festival of Climate Action, organised by The University of Manchester, which considered the challenges at the forefront of the climate crisis.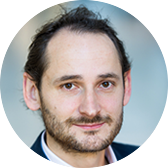 To coincide with the ongoing COP-26 conference, we are showcasing the video sessions involving all AMBS academics over the coming week. In this second film Jonatan Pinkse, Professor of Strategy, Innovation and Entrepreneurship, discusses what an effective green recovery should look like.
The green recovery is ultimately about how we are going to change mobility, how we are going to change industry, and how we are going to change our own behaviour, says Professor Pinkse.
During his session he specifically discussed the multi-billion sums that governments across the world have pledged to the green recovery in the wake of COVID-19, and the particular challenges of enforcing green policies.
"When a green recovery builds on something that is already happening you can do implementation faster because everything is in place and you can pour more money into those schemes," he said. "But the downside of using existing programmes is that you are still doing what you used to do and you are not being ambitious enough. And right now the goals needs to change. The net zero goal needs to be central, while in the past green policies did not have climate change as central, the policies existed for all kinds of other reasons."
He added that the world needed a raft of new policies. "The climate crisis is an unprecedented crisis which needs deep structural change in industries we depend on, and we need to change the materials we use.
"Innovation in this context takes a lot of time but it's not impossible, just look at the relative success of electric vehicles over recent years. Car companies also know there is no other way, they have to come up with producing new products. Sometimes you have to put business in a position where there is no other choice and that needs bold policy."
Watch Jonatan Pinkse's video below: