Rob Finney
Chief Operating Officer, Tristone Healthcare Ltd
Senior Leader Apprenticeship: MSc Management Practice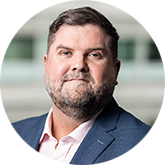 The MSc Management Practice is a part-time, blended learning Masters on strategic leadership development. The MSc is now only available as a top-up (paid for by the learner or their employer) to our PGDip Management Practice, which is up to 100% fully funded through the apprenticeship levy.
"The way that the course is laid out is very engaging and there has been good support in getting used to studying at masters level, which was a new experience for me.
What has been particularly useful is being able to use the content to develop training for managers and to use the research undertaken to improve management practice across the group. I have also used this research to inform practice papers that have been used in the trade press.
In particular, I found it useful to develop materials and research in market-led strategy to run management workshops on business strategy for our leadership community. This has given them the impetus and direction to reflect on their strategic aims to further give a competitive advantage.
Another real benefit of the programme is the fact that there is a real recognition that the diverse group of students are all working professionals with many competing demands. I was hugely supported earlier this year when a combination of family issues and increased work pressures meant that I needed to take a 2-month study break. This was accommodated very quickly by the team, with my tutor advocating successfully on my behalf.
I am really pleased to have embarked on this study. It's pushing me out of my comfort zone in a very productive and enjoyable way. The impact on my business and on my personal development will be positive."